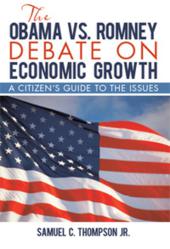 This book lives up to its promise as a true citizen's guide, accessible to all who are interested in understanding the great economic and public finance issues of today."
University Park, PA (PRWEB) September 26, 2012
In less than 40 days, citizens will head to the polls for the U.S. presidential election. Samuel C. Thompson, Jr. author of the new book The Obama vs. Romney Debate on Economic Growth: A Citizen's Guide to the Issues, wants to be sure they understand the economic policies of both candidates.
"There is a significant amount of posturing and distortion going on in the media," Thompson said. "The purposes of the book are to provide a 'clear-eyed' explanation of relevant macro and micro economics principles, and to illuminate the economic policies of the candidates.The book also presents my own assessment of the policies offered by the candidates. I am hopeful that I've given voters an additional decision making tool," he said.
Thompson is a professor at Penn State University Dickinson School of Law and is the Director of its Center for the Study of Mergers and Acquisitions. A former Captain in the U.S. Marine Corps, he has a law degree and an MA in business and applied economics from the University of Pennsylvania and a Masters of Law in taxation from the NYU School of Law. His undergraduate degree is from West Chester University. He writes extensively on tax law and policy, as well as other topics at the intersection of law and economics.
This book is written in a question and answer format and is intended for the average citizen. The book's goals are to promote a familiarity with the fundamental issues affecting the growth of the U.S. economy, to explore the policies of President Obama and Governor Romney, on these economic growth issues, and to help the reader appreciate how economic growth can impact personal investment returns.
Timothy A. Canova, Professor of Law and Public Finance at Nova Southeastern University read an advance copy of the book and called it a "valuable contribution to today's economic policy debates." According to his review, "This book demystifies the issues and cuts through the academic and policy jargon by providing significant empirical evidence and important insights. It is filled with much useful information and critical analysis on the range of issues from fiscal and monetary policy, taxes and stimulus spending to entitlement programs and long-term deficits, financial regulation, and economic growth. Professor Thompson is an expert in tax law and policy, and he debunks a number of myths in his field, including the fallacy that higher taxes on the wealthy is correlated with slower economic growth. This book lives up to its promise as a true citizen's guide, accessible to all who are interested in understanding the great economic and public finance issues of today."
For more information and to see book excerpts as well as a lecture conducted by Professor Thompson please visit:
http://www.obamaromneydebateoneconomicgrowth.com
The book is published by iUniverse and is available through Barnes & Noble and Amazon as a softcover (ISBN 9781475940695), hardcover (ISBN 9781475940701), and e-book.