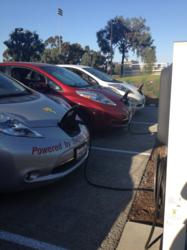 UC San Diego is setting the example for our community by not only embracing clean technology, but also by supporting local infrastructure demands.
San Diego, CA (PRWEB) September 24, 2012
Plug-in vehicle owners at UC San Diego campus are happy to learn that the first public electric vehicle (EV) car charging stations have been made available. The unveiling of the two new stations was appropriately done at the new Structures and Materials Engineering building dedication last Friday.
"This is a great opportunity for the UC San Diego community to build upon our efforts to reduce the carbon footprint of the campus," said Gary C. Matthews, UC San Diego's vice chancellor for Resource Management and Planning. "More than half of UC San Diego's commuters use an alternative form of transportation, contributing to the campus's dedication to make sustainability a top priority in academics, research and campus-operations."
The new charging stations were installed by local renewable energy company, Sullivan Solar Power, and the station infrastructure was fully paid for through the EV Project, a Department of Energy funded program administered by ECOtality. Representatives from Sullivan Solar Power and ECOtality were present with their electric vehicles at the dedication, where the UCSD Chancellor and Facilities Management vehicles were also plugged in to the chargers.
"As we continue to make strides toward decreasing our nation's dependence on foreign oil, ECOtality is excited to have such innovative partners such as Sullivan Solar Power and UC San Diego, said Andy Hoskinson, ECOtality Area Manager. "A sustainable electric vehicle infrastructure is one component of a bright future powered by clean technology and we look forward to our continued progress with Sullivan Solar Power, UC San Diego and San Diego County."
The huge state-of-the-art Structures and Materials Engineering Building is seeking to achieve LEED (Leadership in Energy and Environmental Design) Gold certification. The installation of the solar photovoltaic panels on the rooftop of the facility will assist the new campus facility in receiving this high standard of recognition.
"The marriage of solar power and electric vehicles is the natural progression to creating a sustainable future for our region and the next generation," stated Daniel Sullivan, founder and president of Sullivan Solar Power, "UC San Diego is setting the example for our community by not only embracing clean technology, but also by supporting local infrastructure demands."
Sullivan Solar Power has installed EV charging stations for several UCSD sites off-campus to accompany solar projects and will be installing a total of 18 new electric vehicle charging stations on University's main campus.
About Sullivan Solar Power
Sullivan Solar Power is a turnkey solar system provider that delivers solar electric projects from concept to completion with offices in San Diego, Orange and Riverside counties. The company has installed more than 10 million watts of solar power ranging from residential to large commercial and municipal systems. Sullivan Solar Power has a longstanding A-plus rating with the Better Business Bureau, with no complaints filed since its founding in 2004. The firm has been named one of the nation's fastest growing energy companies by Inc. Magazine and services clients throughout Southern California. Regardless of project size and scope, Sullivan is committed to delivering the best products provided by the most qualified professionals to every customer. Visit sullivansolarpower.com for more information.