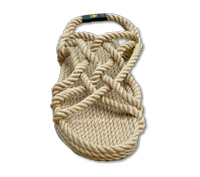 Fayetteville, NC (PRWEB) September 25, 2012
Nomadic State of Mind, a grassroots sandal manufacturing company based in North Carolina will be attending the 39th annual Neptune Festival in Virginia Beach this weekend from September 28-30. The company is winding down their summer festival tour after a long run of various shows ranging from the larger music festivals such as Bonnaroo to the smaller markets that span the U.S.
The Neptune Festival is one of the largest and oldest of its kind, though this is the first year the sandal company will be attending. They will be featuring their traditional hand made rope sandals, along with some new designs, as well as other rope art including water bottle carriers, belts and purses and an extensive line of eco friendly t-shirts made here in the U.S. Chris Anderson, founder/owner, of Nomadic State of Mind will be attending and answering questions about his line of unique footwear and eco friendly apparel. He is a regular and a fan favorite at live events and even after over 10 years of business he enjoys finding time to get out of the office.
About Nomadic State of Mind
Nomadic State of Mind was founded over ten years ago and is based in North Carolina. Manufacturing takes place both in Florida and in Nicaragua where the company has helped support a small community for the past eight years. Nomadic has always believed in positive contributions to the world around them and is committed to remaining true to their roots. For more information or additional art work please contact Chris Anderson or Shea McNally at 877-666-2376 or http://www.nomadicstate.com.