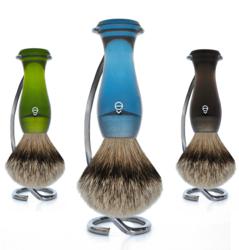 New York, NY (PRWEB) September 25, 2012
eShave, the award-winning brand recognized around the globe for its contemporary products and accessories that combine luxury, modern aesthetics and quality with expert knowledge and craftsmanship, is proud to announce the addition of two new nickel-plated shave brush stands: Twist Stand and Short Stand. A stylish way to maintain the life of the shaving brush, eShave's new brush stands are designed to keep the shaving brushes in proper hanging position for drying – bristles down.
eShave's Lucite Handle Badger Hair Shave Brushes will last many years, if taken care of properly. It's mandatory that the brush is washed and stored correctly after each use. eShave's gorgeous new compact and sturdy brush stands are constructed to hold the shaving brush in a stable manner at the neck, which will maintain the quality of the brush and integrity of the badger hair bristles. The stands are available in two sizes to accommodate eShave's standard brush size and short handle and travel size brushes. The smooth, mirror like nickel-plated finish serves both a decorative purpose and ensures the quality of the stands remain corrosion-resistant for years to come. As with all things eShave, the design of the stands transform their functionality into a piece of art.
TWIST STAND: Perfectly designed for the eShave Badger Hair Shaving Brush, the Twist Stand is a modern take on a classic design that combines the functionality of a traditional holder with a bold style. This sleek and stylish nickel-plated shave brush stand will display eShave's handmade shaving tool in the manner that it deserves. Retail: $40
SHORT STAND: Maximize the longevity of eShave's short brushes with eShave's stylish and space saving new Short Stand. This handcrafted nickel-plated stand is as durable as it is beautiful and is designed for proper storage of any eShave's Short Handle and Travel Shave Brushes. With its sleek, modern look, the stand is a gorgeous accessory on any bathroom countertop. The uniquely designed base ring ensures that the brush stand will not tip over – guaranteeing the beauty of the brush will always be on display. Retail: $30
Another ingenious idea from eShave. Always imitated, never duplicated.
The new brush stands are available at select spas and retailers nationwide, including eShave New York and online at: http://www.eShave.com
Editors Note: Hi-res images are available upon request.
About eShave:
Since 1996, eShave has been "All A Man Needs for the best shave Ever." Specializing in the finest quality grooming products and accessories, all of which are handmade in New York City, eShave brings a modern touch to the most traditional way of shaving. The award-winning brand is recognized around the globe for delivering the smoothest shave possible free from razor burn, shaving-related bumps and irritation, ingrown hairs, and the 5 o'clock shadow.
eShave products are available online at http://www.eShave.com, eShave New York boutiques at Rockefeller Center and World Financial Center, and in select upscale retailers/spas worldwide. 1-800-94-SHAVE / info(at)eShave(dot)com
###
Media Contact: Shelly Cellak | shelly(at)burgeonagency(dot)com | 773.398.6154