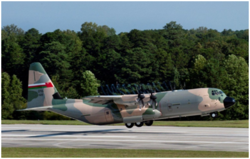 We are very honored that Lockheed Martin entrusted us with such an important and difficult project
Roswell, NM (PRWEB) September 24, 2012
The first of three C-130J Super Hercules aircraft for the Sultan of Oman was formally accepted August 30th at Lockheed Martin's Marietta facility. The impressive aircraft painted in a very unique livery was on display for the ceremonies. The aircraft was painted by Dean Baldwin Painting, LP. at its Roswell, New Mexico facility. Dean Baldwin Painting is mostly noted for its commercial aircraft painting however, the company has serviced hundreds of C130s over the years. "We are very honored that Lockheed Martin entrusted us with such an important and difficult project," said Barbara Baldwin, CEO of Dean Baldwin Painting, LP. "We've painted many C130 aircraft, some in a camouflage livery; but, this is the first in a VIP high gloss camouflage." This may be the first C130 aircraft ever painted in this type of livery. The new C-130J will be used to support internal country operations."
Dean Baldwin Painting LP. has been providing expert aircraft painting services to the aviation industry for over forty-five years. The company has a respectable client base that includes US Airways, SkyWest Airlines, jetBlue Airways, ABX Air, Air Canada, and many other highly regarded air carriers. In addition, the company is an experienced service provider to the US Air Force having completed over 250 strip and paints on C130 aircraft during the past ten years. Dean Baldwin also performs VIP paint services for corporate and private operators
.
Dean Baldwin Painting, LP, with corporate offices located in Bulverde, Texas operates from three locations in the U.S. - Phoenix Goodyear, AZ; Roswell, NM and San Antonio, TX and a fourth location in Peru, Indiana will be coming on line in the fourth quarter of 2012. The company is a certified minority-woman owned, small, privately held business specializing in aircraft refinishing services.