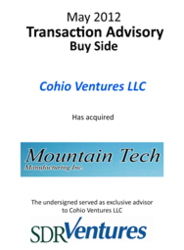 Denver, CO (PRWEB) September 25, 2012
SDR Ventures, a Colorado-based investment-banking firm, recently announced the purchase of Mountain Tech Manufacturing Inc. ("Mountain Tech" or the "Company") by Cohio Ventures, LLC. SDR served as buy-side advisor through the transaction process.
Mountain Tech is a manufacturer of precision-machined and assembled components. Since being founded in 1999, the Company has served customers in the Medical, Aerospace, Semi-Conductor, and High Tech Industrial industries throughout the United States.
The domestic manufacturing industry is center stage in this economic recovery with the U.S. government taking a strong interest in the sector and corporate reshoring decisions gaining momentum as labor, materials, transportation/energy costs, market demand, the availability of talent and capital, tax rates, and currency fluctuations favor domestic production.
SDR's buy-side search process combined its ability to find an "off-the-radar" opportunity in the machining industry with its expertise in privately-held businesses to secure a positive transaction for both the buyer and seller.
SDR represented Mountain Tech's buy side counterpart, Cohio Ventures, LLC. A private investor group based in Denver, Colorado, Cohio Ventures was pleased to name Mountain Tech as its first portfolio company.
About SDR Ventures
SDR Ventures is a boutique investment bank serving the lower middle market, including companies with values up to $300 million. Operating beyond the confines of traditional investment banking, SDR is reinventing the way business owners approach the market, offering transaction advisory, capital formation, strategic consultation and performance exchange services. Representatives of SDR Ventures offer securities through Colorado Financial Service Corporation, a FINRA member broker-dealer.
###