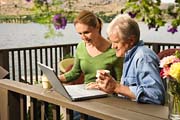 Add Ford Motor Company, Visteon, Sears and HP to a growing list of companies going down the buyout offer path.
Grand Blanc, MI (PRWEB) September 25, 2012
In an effort to ease the burden of legacy costs, the General Motors accounting contingent developed a formula involving life & joint life mortality tables, current pension, spousal pension continuation and several other factors to determine lump sum buyout dollar amounts, much like a life insurance company would in determining how much to charge for premiums. Decoding that formula was crucial for the Barnett team to develop methods to accurately assess the pros and cons when making that fateful decision that is so impactful on ones retirement preparedness.
The way the numbers were presented in the buyout offer left many confused at what to do. On one hand, the proverbial bird in the hand (continued pension), seemed a lot more stable than two in the bush. On the other hand, having control of those dollars would open up options that didn't exist while collecting monthly pension checks. Those taking the buyout can now take more or less monthly, depending on needs, thus gaining more control over household taxes. They may also be able to leave more money to the kids or charity as a result and expanding what may have already been a solidly prepared for retirement plan. Countless General Motors Salaried Retirees sought the aide of Barnett Financial & Tax when approached with the Lump Sum Buyout Offer coming from their former employer. Presenting these clients with a thorough breakdown painted a clear picture, making the "buyout decision" a much less ulcer inducing dilemma.
Add Ford Motor Company, Visteon, Sears and HP to a growing list of companies going down the buyout offer path. Large companies are making buyout offers as a bottom line decision. These companies, after all, are pursuing profits and trying to eliminate debt, (i.e. looking out for themselves). With the right help these offers can be viewed as a chance for individuals to benefit from the actions of the major corporation that once held them in its employ. "This truly is a second chance at making a major life decision" emphasizes Rick Barnett, "and it's not often one gets this kind of opportunity." Choosing the right option can truly change the family dynamic from a financial point of view and certify whether or not one is prepared for retirement. When presented with this opportunity, each retiree is encouraged to seek the help of an expert. Barnett's hard work and dedication to the needs of retirees and seniors has positioned them as just that.
About Barnett Financial & Tax
Barnett Financial & Tax, Located in Grand Blanc, Michigan provides a team of highly qualified professionals, with backgrounds in Tax, Estate & Elder Law, accounting, and financial planning, who provide complete financial services for their clients. Further information about Barnett Financial & Tax can be found at http://www.BarnettMRPG.com.
About Rick Barnett
Richard A. Barnett is a Financial Planner with Designations as Certified Estate Planning Professional (CEPP), Christian Financial Consultant & Advisor (CFCA) and has a Master of Estate Planning (MEP).
Mr. Barnett has been quoted for the past 20 years in the Flint Journal, the Grand Blanc View and has had appearances as a financial authority on local channels WJRT TV-12, WNEM TV-5 and WEYI TV-25. Rick can be heard weekly as host of the "Barnett Financial Hour" Thursday mornings at 8am eastern time on Supertalk 1570am or streaming live at http://www.supertalk1570.com. Also Mr. Barnett has been asked to speak on various topics of tax, investments, estate planning, etc from General Motors, Delphi, Genesee County, Hurley & Genesys Medical Centers, Michigan Association of Christian Schools as well as dozens of other Corporations, Unions, Churches and Associations.