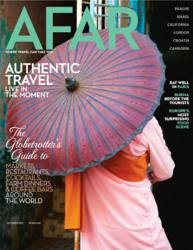 "This is a stunning magazine, with every page a treat for the eye—full of vivid photography and bolstered by good first-person writing…Compelling images show the reader faraway people and places." The Society of American Travel Writers
San Francisco, CA (PRWEB) September 24, 2012
The Society of American Travel Writers has awarded AFAR magazine a Gold for the Best Travel Magazine in America in its annual Lowell Thomas Awards, also awarding AFAR.com a Bronze for online journalism. This highly prestigious and coveted acknowledgement comes for the second time in three consecutive years. The three-year-old magazine is edited by Julia Cosgrove, who has been with AFAR since its launch. The acknowledgment of excellence in online journalism is the media company's first.
In awarding AFAR the Gold, the judges wrote, "This is a stunning magazine, with every page a treat for the eye—full of vivid photography and bolstered by good first-person writing…Compelling images show the reader faraway people and places…The magazine's matte cover sets it apart from many other travel magazines on the newsstand…Importantly, the Afar Foundation demonstrates this is an organization that puts its money where its mouth is."
Launched in September 2009, AFAR brought a novel approach to travel, appealing to globally minded travelers looking to get beneath the surface of a place to have better, deeper travel experiences. The magazine has been received extremely well and is one of the fastest growing magazines in the US market, growing from a paid circulation of 50,000 at launch to over 175,000 today. It has also been well received by advertisers—ad pages are up 100% year-end in 2011, and the magazine carries a host of global brands including Hermes, Louis Vuitton, Mercedes, Jaguar, and Porsche.
AFAR.com, out of beta in early 2012, has already struck a chord as a more engaging and substantial travel resource than what is offered by standard photo-sharing, travel planning, or travel content sites. AFAR has become a destination for like-minded experiential travelers who seek and share information about traveling the world.
Key Indicators:

13,000 Highlights and growing, in over 3,200 cities and towns
10 or more Highlights for over 200 cities in 100 countries including the 100 most searched cities
Active (content creating) community members living in 558 cities in 75 countries
Over 11,000 mobile downloads
"This is a terrific honor," says AFAR co-founder Greg Sullivan. "We believe curious travelers are looking for ways to get beneath the surface of a place, to experience it the way the locals do. We want to ensure that they find and live those experiences. AFAR offers those resources—through the magazine, with the mobile app, and at AFAR.com: substantial content, meaningful interactions, and a wealth of information that will help people travel more deeply."
ABOUT AFAR MEDIA
AFAR is the multi-platform travel media brand that inspires and guides those who travel the world to connect with its people, experience their cultures, and understand their perspectives. Headquartered in San Francisco, with an office in New York City, the company launched in 2009. Its platforms include the award-winning AFAR magazine, AFAR.com, the AFAR mobile app, the non-profit AFAR Foundation, and immersive travel series AFAR Experiences.