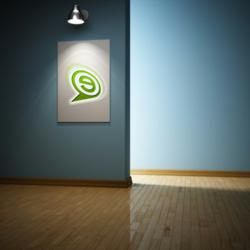 Turn Your Pictures into Art, With Egprint's beautiful Canvas Printing.
Miami, FL (PRWEB) September 25, 2012
Introducing Canvas Printing Services:
Always incorporating the latest technology into its services to keep up with the times, Egprint now proudly introduces canvas printing as its newest offering. Many people get photographs and favorite images printed and placed into wooden, metal or glass frames. But if you're looking for something unique, canvas printing is the answer. Traditionally, canvas has been used by artists to draw or paint their masterpieces. Now, any image or photograph can be printed onto canvas to give the effect of actually being painted on it. Canvas prints of natural scenery and portraits in particular look like original paintings done on an oil or acrylic medium; these are readily available at any store. For customized prints of the highest quality, however, place an online order with Egprint.
Canvas Options:
Any image can be printed on canvas and delivered in the form of a roll. The canvas material has three options to suit various budgets; it could be cotton, polyester or a combination of the two, known as polycotton. Polyester is the cheapest but produces low-quality images. Polycotton canvas balances picture quality and value for money. Cotton gives the best finish and quality of prints.
Frame Options:
This canvas can then be optionally gallery-wrapped or hand-stretched onto a frame. The frame is made up of wooden bars joined together. Pine wood is the popular choice, being soft yet durable. It does not need to be polished because it is hidden from view underneath the canvas. This reduces the overall cost of canvas printed frames, making them more economical than framed art works. The canvas is wrapped around the frame and held in place using an adhesive or staples. Wooden wedges and backing tape can be added to maintain the tension of the canvas, but this comes at an extra cost.
Stretched Canvas Printing Options:
For stretched prints, the image can be made to fit the frame exactly, in which case the sides appear blank. To avoid this, the outer parts of the image can be duplicated onto the frame sides. The best alternative is to size the image slightly larger than the frame; in this way, the picture can be continued around the frame to give a three-dimensional effect.
Customized Image Options:
Many times people may have a particular theme in mind, but cannot find a wonderful picture to portray it. Simply browse through the template gallery on the websites for world-class stock images. If you want to use your own picture or photograph, keep in mind that not all images are suited to canvas printing. To save time and money, send the image to the company for confirmation before placing an online order. Various editing options are also offered, including brightness adjustment, correction of red-eye effect, changing the vivid color scheme to vintage sepia or classic black-and-white and vice-versa. The final product shows vitality and brings the images and photographs to life.
Applications of Canvas Prints:
Canvas printing offers the chance to design great pieces for interior decor. Choose a favorite photograph of a child memory, pet or family and get it turned into a work of art worthy of displaying on the walls of home or office space. It can be a holiday picture, an individual portrait or a themed collage. Canvas Printing can even include text into the image to be printed. Canvas prints make great farewell souvenirs. They preserve special memories such as a wedding or the new arrival of a baby by binding them onto the canvas. This product is durable and will beautify homes for many years to come. There is no end to the list of occasions for gifting canvas printed frames; birthdays, anniversaries, Christmas, Valentine's Day and so on; give the home or office of your loved ones a contemporary yet classy look.
Canvas printing also has business applications. Companies use this medium for indoor advertising because of the picture clarity and vitality of the print quality. Famous art works can be easily duplicated as canvas prints at a very low cost, allowing an artist to cater to the high demand from world-wide art collectors.
Who Is Egprint?
Egprint has made a name for itself in as a online printer business and has gotten many loyal customers in Miami, Florida over the past few years. This company specializes in the printing of business cards, EDDM (Every Door Direct Mail) postcards, bookmarks, posters, banners, magnets and all kinds of stationery. All products are of the finest quality and are reasonably priced. Orders can be placed online from the convenience of your own home or office; delivery is completed as fast as possible. Egprint offers special wholesale package deals for industry printing needs. Its website, Egprint, makes use of the secure services of PayPal for accepting payment. Customers can track the status of their orders via the same site. The company is very conscious of the environment and supports recycling and other eco-friendly drives.