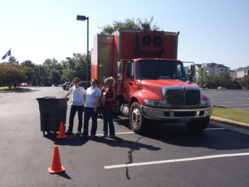 Alexandria, VA (PRWEB) September 26, 2012
CommonWealth One Federal Credit Union held two Shred Day events at its Main Branch in Alexandria, VA on September 21 and Harrisonburg Regional Branch in Harrisonburg, VA on September 15. Members and the community were encouraged to go green and protect their identity by shredding their sensitive personal documents such as monthly bill statements, paycheck stubs, tax records and junk mail for free.
In Harrisonburg, H&R Contractors shredded a total of 1,800 pounds of documents. In Alexandria, 8,190 pounds of paper were shredded securely by Safeguard Shredding while participants waited. The Alexandria event was also supported by the T.C. Williams High School Academy of Finance ("AOF") with an on-site volunteer. The AOF program promotes financial literacy among students by preparing and exposing them to the world of business. CommonWealth One helps them achieve this goal by giving these students the opportunity and the experience of working for a financial institution and other special projects.
CommonWealth One staff was on hand at both locations to personally assist members and the public with disposing of their materials. Branch Managers and staff were available to answer questions about mortgages, auto loans, checking/savings accounts, online account opening, and e-Services, including Mobile Web Banking and Text Banking as well as other financial products and services.
About CommonWealth One Federal Credit Union
Since 1944, CommonWealth One Federal Credit Union, headquartered in Alexandria, VA, has grown to become one of Washington, D.C. and Northern Virginia's top credit unions with more than $305 million in assets serving more than 36,000 members. CommonWealth One is a full-service, member-owned, not-for-profit financial cooperative committed to being the lifetime financial institution of its members. It provides its members with lower fees and loan rates, plus higher savings rates. Excess earnings are returned to members in the form of higher dividend rates, lower interest rates on loans and low or no fees.
CommonWealth One has branches in downtown Washington, D.C., Alexandria, VA, and Harrisonburg, VA (one branch is located on the James Madison University campus). Members can access their accounts through Online Banking, Mobile and Text Banking, plus a network of over 4,000 shared branches and 40,000+ transaction-fee-free ATMs across the country.
For information, or to open an account online, visit http://www.cofcu.org.