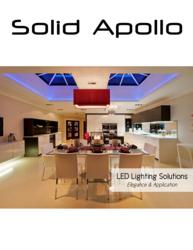 The catalog is a convenient selector guide designed to high-light Solid Apollo's complete line of LED lighting products.
Seattle, WA (PRWEB) September 24, 2012
This new catalog makes it easy to imagine the endless lighting possibilities LED Products offer anyone that would like attractive, energy-efficient LED lighting in a home or business. Solid Apollo's LED Product Print Catalog illustrates how the products work and helps guide informed decision making by providing helpful information and images of the products in use. This information is extremely relevant when it comes to purchasing the correct product for a specific job.
The catalog is a convenient selector guide designed to high-light Solid Apollo's complete line of LED lighting products. The LED Product Catalog is filled with images of the practical applications for LED Lighting as well as technical information and images to make the products easier to understand. Along with LED strip Lighting the catalog includes, LED Control Systems & Color Changing LED Remotes, LED Dimmers, LED Wall Washer Projectors, DMX Controls, Power Transformers and Related Solderless Accessories as well as many other LED products available for purchase.
Whether using LED Deck Lighting or Kitchen Under-Cabinet LED Lighting, Solid Apollo's new print catalog will help assist in choosing the correct products to achieve perfect results! This catalog is full of amazing products like the 120V A/C Driverless LED Strip, which comes fully waterproof and ready to plug in directly out of the box. There are new control systems including the fully programmable 4-Zone RGB Remote Control, and the 10-Zone RGB Remote Control both designed to make the most of Color-Changing LED Products.
Each catalog section contains pictures specifically tailored to make it simple to visualize how LED products will look as a finished job. These helpful pictures depict LED products installed in the applications the items were designed for. The uses and applications are so widely varied that it is impossible to give an example of every job the LED's are capable of tackling so if any questions arise, Solid Apollo LED is available for consultation on a toll free number or call 425-582-7533 today for a copy of the printed catalog or questions about any LED products.
Solid Apollo LED gives customers options, which is why the LED Product Catalog is also available for download at SolidApollo.com. Making a decision on the LED products needed for the next lighting job has never been easier!
About Solid Apollo.com: Solid Apollo is a cutting edge LED lighting company which designs produces and distributes a wide range of High Quality LED Lighting Products and lighting solutions to meet today's on-going, new generation, lighting demands. For more information and to order online, visit Solid Apollo at solidapollo.com or call toll free 866-592-3873.