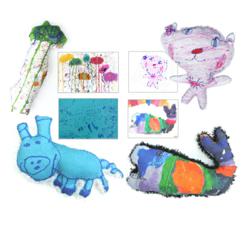 "I just gave it to my son. He loved it, danced it around the room, was talking to it, etc. It was awesome, he was so proud that his drawing was now a stuffie!!"
Needham, MA (PRWEB) September 26, 2012
Custom stuffed toys from Happy Doodles make exciting and unique gifts for kids. Ask children what holiday gifts they are wishing for and you'll hear about the latest must-have technologies and video games. Happy Doodles offers custom-made, non-electronic gifts that will be treasured forever because they are made from children's own artwork.
The idea for Happy Doodles started with founder Heather O'Neil's younger sister. "She had a signature dog that she drew on everything – sketchpads, stories at school and letters from camp. For years I thought of surprising her with a stuffed version of the dog and one day, I did. She was thrilled and it struck me that all kids would be excited to see their own drawings come to life. Voila, Happy Doodles was born!"
Happy Doodles preserves artwork by digitally printing it on soft cotton fabric and backing it with soft fleece, creating a huggable stuffed toy in the shape of the character that the artist drew. Customers can go to Happy Doodles' website to order a custom-made stuffed animal and upload their artwork, or they can buy a Happy Doodles gift certificate so the artist can decide which masterpiece to use. Happy Doodles come in various sizes: large 18", medium 12", and small 4" key chains, backpack decorations, and ornaments.
Here is what some recent customers had to say about their Happy Doodles custom stuffed toys:
"I gave the Happy Doodle as a graduation gift to my girlfriend; she drew the pig in kindergarten. She loved it! You did an amazing job."
"It is exactly what my son's artwork looks like! Now I want to get even more. The price was more than reasonable. Thank you, thank you, thank you!!"
O'Neil hopes to grow the business so that she can hire mothers of kids with disabilities to help her. "I know from personal experience that these moms need a flexible work schedule and a creative outlet. It's hard to find an employer that will tolerate the number of doctor's appointments and school meetings that it takes to advocate for our kids. I want to be that employer."
For more information about Happy Doodles, or to order a custom stuffed toy or gift certificate, visit happydoodles.com. It's not too late to order for the holidays!