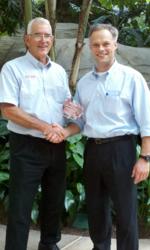 Web Edition's rate management, reporting and lead tracking solutions have transformed our operation
Sarasota, Florida (PRWEB) September 26, 2012
Hide-Away Storage was recently recognized as the 10,000th customer of SiteLink's Web Edition software for the self-storage and portable storage industry.
Hide-Away Storage has been operating self-storage facilities since 1977 and delivering mobile storage containers since 2000. In February 2011, Hide-Away Storage completed the conversion of all 10 of its self-storage properties to SiteLink Web Edition Software. "We did not want the hassle and expense of maintaining servers to run our property management software anymore," said Steve Wilson, Managing Partner for Hide-Away Storage. "SiteLink Web Edition allows us to focus on what we do best, serving customers with their storage and moving needs."
More than 70 of the top 100 storage operators run SiteLink Web Edition today, allowing the company to grow the program every month and lower the cost of owning software by eliminating bundled services. Storage operators are able to choose from competing partners such as credit card processors and call centers. "We are ecstatic Hide-Away Storage chose SiteLink and has since become such an important part of our company," said Markus Hecker, SiteLink's COO.
SiteLink continues to offer more and more features, allowing the company to earn the "Best of Business Management Software" award from Inside Self-Storage for two years in a row. "Web Edition's rate management, reporting and lead tracking solutions have transformed our operation," said Steve Wilson.
In addition, SiteLink Web Edition allows Hide-Away Storage to integrate with other platforms, such as the company's website and 24-hour rental kiosks which are located at five of the company's 10 locations in Bradenton, Ellenton and Sarasota.
About Hide-Away Storage
Hide-Away Storage operates 10 traditional self-storage facilities and two Mobile Storage warehouses on the Southwest coast of Florida. The self storage facilities are located in St. Petersburg, Ellenton, Bradenton, Sarasota, Ft. Myers, and Naples, Florida. Hide-Away delivers portable storage units in Pinellas, Manatee, Sarasota, Lee and Collier Counties. The company also provides full-service moving of household goods. Hide-Away has approximately one million square feet of storage space, and is headquartered in Sarasota, Florida. The company was started in 1977 in Bradenton by Steve Wilson, who remains the managing partner.
For more information on Hide-Away's storage services and pricing, visit: http://www.hideawaystorage.com
Contact: Hide-Away Storage
Meisha Wilson
Hide-Away Storage Services
941-755-1166 ext. 1004