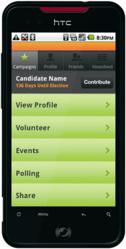 Our latest subscribers help illustrate the variety of candidates and groups VoterBuzz can serve.
Bradenton, Florida (PRWEB) September 26, 2012
With its desktop version just weeks away, the VoterBuzz mobile app has attracted three new subscribers.
The new subscribers include a mayoral candidate from Bradenton, Fl.; a Boston-based union; and a candidate for a union leadership position.
"Our latest subscribers help illustrate the variety of candidates and groups VoterBuzz can serve," says Andrea Torkelson, president of VoterBuzz LLC, the company that created the VoterBuzz mobile app. "Its potential to aid in the political process is limitless."
Richard O'Brien is the Bradenton mayoral candidate who has signed on to VoterBuzz. He faces a tight three-way race to lead the southwest Florida city. Other new subscribers include the Boston Teachers Union, which has lent its voice recently in support of the Chicago teachers union; and Angela Cristiani, a candidate for political director of the Boston Teachers Union.
Available to campaign and candidate subscribers for only $10 a month, VoterBuzz is downloadable for free to Android, iPhone and iPad voters. By mid-October, VoterBuzz LLC will release a desktop version of its mobile app, making the tool more accessible to millions of voters and campaigns.
VoterBuzz is the most comprehensive mobile app for politics on the market today. It was created in late 2011 by Torkelson, a political consultant for Bradenton's The Nolan Group, a political consulting firm.
VoterBuzz enables campaigns, candidates and organizations to more efficiently and effectively inform followers, recruit volunteers, raise money and publicize events and news. An upgraded version of the app was recently released that includes new features such as push notifications of events and announcements of new subscribers.
By mid-October, a desktop version of VoterBuzz will be released, making it more accessible to the millions of voters who still prefer desktop programs over mobile applications.