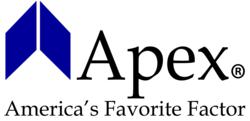 This year Apex was represented in JA's bowl-a-thon by 35 teams whose members successfully raised over $30,000 for Junior Achievement.
Fort Worth, TX (PRWEB) September 25, 2012
Apex Capital has been a proud supporter of Junior Achievement (JA) for six years. Apex personnel support JA by teaching in the classroom and with monetary donations raised for the annual JA bowl-a-thon through employee organized fundraising events. This year Apex was represented in JA's bowl-a-thon by 35 teams whose members successfully raised over $30,000 for Junior Achievement.
Dean Tetirick, Vice President and General Counsel of Apex and a Board member of Junior Achievement of The Chisholm Trail, Inc., writes, "America needs to do something to keep its children in school and encourage them to work hard to succeed in life, especially in under privileged areas. JA is doing something! And that is why Apex is so supportive of JA. JA business volunteers who take JA programs to the classroom become role models to students, advance financial literacy, teach skills needed for college and workforce readiness, and demonstrate the benefits of staying in school and completing an education."
At the Third Annual Apex Capital Cup golf tournament, ten teams played a nine-hole scramble in high Texas temperatures to raise money for JA. Between the golf tournament and the final fundraising event, the JA Bowl-a-thon, Apexers stayed busy arranging meals, sales and events before and after work hours. Staffers reached out to local vendors to collect auction items and arrange events for the annual Apex Silent Auction. Almost 100 local merchants donated items for the auction this year.
Apex supports and encourages employees' involvement in the classroom each semester. In spring 2012, seven employees volunteered in local classrooms and this fall eight Apexers will continue the efforts to educate students from K-12 about higher education and employment in the global marketplace. This year's fundraising success highlights Apex personnel's enthusiasm for the program and their commitment to Junior Achievement.
About Junior Achievement USA® (JA)
Junior Achievement is the world's largest organization dedicated to giving young people the knowledge and skills they need to own their economic success, plan for their future, and make smart academic and economic choices. JA programs are delivered by corporate and community volunteers, and provide relevant, hands-on experiences that give students from kindergarten through high school knowledge and skills in financial literacy, work readiness and entrepreneurship. Today, JA reaches four million students per year in more than 120 markets across the United States, with an additional 6.5 million students served by operations in 117 other countries worldwide. Visit http://www.ja.org for more information.
About Apex Capital
Founded in 1995, Apex Capital provides more than just cash flow for clients. Apex provides honest and innovative full service freight bill factoring, a competitive fuel discount program and total management of accounts receivable. Apex works with the Alliance for Safe, Efficient and Competitive Truck Transportation (ASECTT) and other organizations to ensure fair legislation and regulation of the trucking industry in order to keep the industry competitive and profitable for America's freight haulers. Apex is a privately held company in Fort Worth and has been voted one of the top companies to work for in Texas for the last 5 years. For more information call 800.511.6022 or visit http://www.apexcapitalcorp.com.