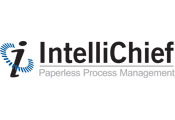 Mansfield, MA (PRWEB) September 24, 2012
IntelliChief LLC, a leading paperless process management solutions developer and exclusive provider of document management for the Infor XA ERP application will be exhibiting at Infor Affliates' MKA & Guide Technologies Manufacturing and XA User Conference.
The Manufacturing and XA User Conference will be held in Grand Rapids, MI at The Amway Grand Plaza on September 24 and 25. IntelliChief and Guide Technologies are teaming up to demonstrate the IntelliChief document management and document workflow solution, which has been custom-built with Infor for seamless integration with Infor's XA ERP application.
When Infor XA is used with Infor IntelliChief Document Management, it enables the creation and capture of key business documents electronically, making them available directly from a user's desktop computer and XA application screens. This helps users to better, and more accurately, manage the complex business processes surrounding the receipt of unstructured data in the form of electronic or paper-based business documents generated internally or received from their supply chain partners and customers.
Infor IntelliChief Document Management has been engineered specifically to improve the operations of discrete manufacturers with mixed-mode processes including repetitive, engineer-to-order, configure-to-order, manufacture-to-order, assembly-to-order, and make-to-stock.
Attendees can expect to learn, first-hand, how easy it can be to…

Automate the purchase-to-pay and order-to-cash processes
Eliminate paper, streamline operations, and retrieve documents faster
Automatically index and store purchase orders, A/P checks, and more
Print-capture emails to your document management system and receive email alerts as new documents are added to the system or when approvals are needed
Utilize workflow and apply the policies and procedures you currently use with your paper files to the electronic documents once your company goes paperless
Add and view documentation notations and history
Easily index and re-index document classifications
IntelliChief encourages attendees to stop by their booth to learn how they can begin to enjoy all of these benefits through the functions of their Infor XA ERP.
###
About IntelliChief
IntelliChief, is the leading provider of Paperless Process Management (PPM) solutions for the IBM i (System i, iSeries, AS/400) Enterprise. With decades of expertise in the market and seamless integration with leading ERP software vendors, IntelliChief takes companies of all sizes paperless with a typical ROI of less than one year. Users can create, capture, manage, archive, retrieve, and distribute mission-critical documents directly from their familiar ERP screens, eliminating the need for filing cabinets, storage facilities, fax machines, copiers, and paper files.