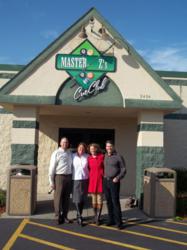 Waukesha, WI (PRWEB) September 26, 2012
VR – Lakes Business Group is pleased to announce the commercial business transaction of Master Z's Cue Club in Waukesha WI by business intermediary Todd Schlender. Master Z's Cue Club is a 9,500 square foot Sports Bar and Pool Hall located at 2454 N Grandview Blvd., and is host the area's largest pool and dart leagues and tournaments. In addition to the large quality of pool tables, dart boards, adult gaming and typical sports bar TVs, the Cue Club is well known for their food and have award winning Friday Night Fish Fry.
VR-Lakes Business Group, Inc. secured the buyers from New York with the benefit of their extensive web based marketing. The transaction was made possible in part by SBA funding through the Wisconsin Business Development and Waukesha State Bank. The buyers, originally from Wisconsin were able to use retirement funds for the down payment and working capital through an ERSOP (Entrepreneur Rollover Stock Option Plan) with the aid of SD Cooper.
This transaction included the Asset Purchase and Trademark License Agreement along with the Commercial Real Estate Transfer of property. The business was on the market for approximately nine months before the VR – Lakes Business Group presented the offer from the buyers and the transaction closed within three months.
The new owners moved from New York and are settled into their new home; excited for the opportunity and are taking over the business as the busy league and football season begins. The sellers also own Master Z's Dart and Billiard Supply on 1005 Spring City Street in Waukesha and will be concentrating their efforts in the management and growth of that business.
Todd Schlender is the business intermediary at VR - Lakes Business Group, Inc. that facilitated this successful, complex transaction. With over three decades of business and manufacturing experience, Todd's extensive sales and marketing background has built customer relationships through business development, resulting in a history of sales success. Feel free to contact Todd Schlender with any questions in regards to buying or selling a business in Wisconsin: todd(at)vrbizlakes(dot)com or 262.347.2083.