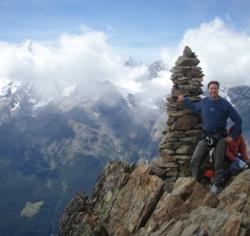 I choose endeavors that are barely within my reach yet so difficult they scare me witless.
Oshkosh, Wisconsin (PRWEB) September 28, 2012
Dr. Jeffrey McLaughlin is a board-certified orthopedic surgeon specializing in partial and total hip and knee replacement surgery, as well as hip and knee resurfacing. Over the past couple of years, Jeffrey McLaughlin, MD has twice attempted to scale the steep face of the Matterhorn in the Swiss Alps. He was turned back both times because of thunder, lightning and ice storms. In early August this year, on his third try, Dr. McLaughlin and a guide successfully climbed to the 14,700 ft. summit, accompanied by stiff winds and temperatures hovering at 15 degrees F.
Since turning 40, Dr. McLaughlin has turned his physical life around. He lost weight, began running marathons, and incorporated strength conditioning to enable him to do rock and mountain climbing. The successful summit of the Matterhorn is a signal achievement for a man who once seriously considered using an elevator to get the gym. Dr. McLaughlin now believes that he can be a role model for his patients with hip and knee problems.
When asked how he trained for the climb, Dr. McLaughlin answered, "My wife and I have been climbing for the past three years. We train by hiking with 40 pound vests on to strengthen our legs and increase endurance. And I do wall climbing at the "Y" every week to help with upper body strength."
Dr. McLaughlin describes his 2012 alpine adventure as "one of the most exciting things I've ever done. We stayed in Chamonix in the French Alps and climbed three different mountains in order to get acclimated to the altitude. One day my guide and I travelled to Turin, Italy to climb the Grande Paradiso. As I was traversing a two mile glacier, a snow bridge gave way and I fell into a 150 foot crevasse." He jokes about "clawing" his way up the ice wall using only crampons (climbing cleats) and an ice axe while being suspended by a thin nylon rope. Joking aside, Dr. McLaughlin felt it safer not tell his wife or 3 year old son about this adventure until after his successful summit of the Matterhorn several days later.
Future climbing plans include climbing the Eiger, a mountaineering challenge in the Bernese Alps; El Capitan, a sheer rock face located in Yosemite Park; and someday, the holy grail of all mountain climbers, Mt. Everest in the Himalayas.
Asked why he pursues such a perilous sport, Dr. McLaughlin responded, "I feel that it is essential to constantly challenge oneself. I choose endeavors that are barely within my reach yet so difficult they scare me witless."
For more information about Dr. McLaughlin and The Kennedy Center, visit their website at http://www.thekennedycenteroshkosh.com.
About The Kennedy Center for the Hip and Knee:
The Kennedy Center offers a wide range of orthopedic procedures including partial knee replacement, knee ligament surgery and a full range of hip and knee replacement options. Located at the Mercy Medical Center, the Kennedy Center is known as a leader in Wisconsin orthopedics and has been an innovative force in the field of knee and hip replacements and other orthopedic surgeries since its founding in 1983. Their expertise in sports medicine and other areas of orthopedics have set the industry standard for Wisconsin orthopedics for over 25 years.