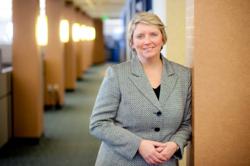 This 'learning-by-doing' curriculum is part of an applied learning philosophy that is woven into every degree and diploma program.
Minneapolis, MN (PRWEB) September 24, 2012
Globe University and several of its affiliate schools, including Minnesota School of Business (MSB), Minnesota School of Cosmetology (MSC) and the Institute of Production and Recording (IPR), honored 100 community partners during their annual community appreciation luncheon. The goal of the event was to showcase student applied learning projects, honor local partner companies and to thank partner organizations for their continued support.
"Every year we host a luncheon to honor our community partners for their support in making our applied learning philosophy a reality," said Kaye Myhre, Vice President at Globe University. "Their support is vital to the success of our student applied learning programs, as they provide crucial real-life experiences that prepare our students for their careers upon graduating."
Among the honored partner organizations was CaringBridge, a local nonprofit dedicated to providing people with a way to connect and update loved ones during health events. As part of the partnership, a marketing class from Globe University's Lakeville campus collaborated with CaringBridge employees to create a campaign promotion called "All Hands In." Students created flyers and distributed brochures around campus to create awareness about CaringBridge's mission and all of the great things they do in the community.
"The students from Globe University went above and beyond to make this program a success and help us create more awareness about CaringBridge in the Lakeville community," said Sona Mehring, Founder and CEO of CaringBridge. "We were thrilled to partner with such a talented and committed group of professionals."
Diabetes Sentry was also honored for teaming up with MSB accounting students from the Elk River campus. The students worked with Michael Russin, the organization's Vice President of Sales and Marketing, to set up a five-year budget plan for the fledgling organization. "I was blown away by the students' work," exclaimed Russin. "Thanks to their [students] work I was able to secure funding for the business." Russin would like to continue to work with MSB students.
Other honored partners at the event were National Kidney Foundation, Listening House, the JLR Foundation/IDEAWERKS, BC's Closet and Make a Hero Foundation.
These community partnerships exemplify Globe University's commitment to giving back to the community by having students take an active role in creating and implementing projects that go beyond classroom learning. This 'learning-by-doing' curriculum is part of an applied learning philosophy that is woven into every degree and diploma program at Globe's network of career schools. Through course-specific assignments and projects, students are exposed to an array of experiences enabling them to exercise their skills in the classroom, the workplace, and the local community to ensure a fulfilling educational experience.
About Globe University, Minnesota School of Business and Affiliate Schools
Globe University, Minnesota School of Business, Minnesota School of Cosmetology and the Institute of Production and Recording are part of a premier, family-managed system of career colleges, universities and training centers based in Woodbury, Minnesota. These specialty skills colleges prepare work-ready professionals for successful careers in a wide range of high-demand fields. Through its mission, We Care, the organization integrates hands-on and career-focused education with service-and-applied-learning experiences that expose students to their communities and real-world situations. Programs offer undergraduate, diploma and graduate degrees in a wide range of career fields, including business and accounting, health sciences, legal sciences, technology, creative media and applied arts. More than 30 programs are available online. All academic programs are accredited by the Accrediting Council for Independent Colleges and Schools (ACICS). For more information, visit globeuniversity.edu