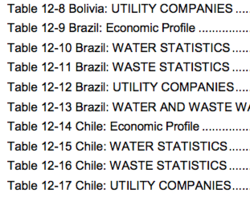 "At the current rate of progress, sanitation coverage is predicted to be 67% in 2015, 580 million people short of the MDG target."
(PRWEB UK) 25 September 2012
NRG Expert published their findings in a report called the Global Guide to Water and Waste Utilities 2012. In this market research report NRG Expert's team of energy analysts research the water market in each country and outline the progress made. They review the major water and waste companies, water pollution, private sector investment and technologies being offered to solve the safe water and sanitation problems.
Here are some highlights from the latest global water and waste market research report:
1) Population growth puts pressure on water supplies
The world's population is averaging a growth rate of around 1.1% annually. This is creating intense pressure on water supplies and sanitation. The UN reports that some countries have achieved many of the sanitation and safe water goals, while others are not on track to realize any.
2) Private Sector Growth for Water and Wastewater Market
To meet the growing demand for safe water and sanitation more private sector involvement will be needed. NRG Expert forecasts that the share of private companies in the water and wastewater market is forecast to increase from 8% of the global population in 2003 to 17% in 2015.
3) Several Major Water Companies Dominate Globally
NRG Expert's market research reveals the major water companies which have the largest share of the water market worldwide. These companies include Ondeo/Suez, Veolia Water, Thames Water, American Water, Berlin Wasser and Bouygues/Saur.
4) State Utilities Still Dominate the Water and Wastewater market Locally
While countries requiring a large investment in the water sector and limited capital, are encouraging more private sector involvement, the energy analysts forecast that state utilities will still dominate the wastewater and water market for the foreseeable future.
5) Drinking Water Target Met, Sanitation Off Track
According to the World Heath Organization, "the target will not be reached in its entirety by 2015. While the drinking-water target was met in 2010, sanitation is still considerably off-track."
"At the current rate of progress, sanitation coverage is predicted to be 67% in 2015, 580 million people short of the MDG target."
The countries of the UN still have a long way to go to provide safe drinking water and sanitation for the world's population.
If you are working in this industry, NRG Expert's report the Global Guide to Water and Waste Utilities 2012 can provide an invaluable resource. The water and waste utilities market research report provides in depth data and statistics on the global water market including water and wastewater treatment methods and water treatment companies, pollution, private sector investment, and much more.
Click here to find out more:
http://www.nrgexpert.com/energy-market-research/global-guide-to-water-and-waste-water-utilities-report
Contact:
Edgar van der Meer
NRG Expert
Toronto +1 (416) 840-5847
London +44 (0)20 8432 3059
Background information
NRG Expert is a London and Toronto based energy intelligence and market research publisher. NRG Expert provides up to date information, statistics and analysis on worldwide energy markets, including the waste and water market, water companies, water data and safe water forecasts and consulting.
Source:
United Nations Millennium Development Goals website 2012,
World Heath Organization 2012 ,
NRG Expert Waste and Water Utilities Report 2012