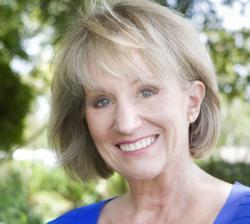 These stories...remind us that we are good, competent, and worthy. They can lift us out of a sense of doom
Sedona, AZ (PRWEB) September 26, 2012
It was during her life-changing motor home journey through the U.S. a decade ago that Charlene started collecting what she calls, "touchstone stories." According to Charlene, touchstone stories are stories that we carry with us each day to help us remind ourselves of our courage, beauty, strength–all our inner resources.
"We are all so much more powerful than we realize," says Charlene. This book is a sharing of tender and dramatic stories that demonstrate the power and richness within humanity. They include showing how:

A young mother discovered deep inner strength when she chose to save the life of a dog
A destroyed beach garden led a family to see more beauty
The Arizona Diamondbacks used imagination to win The World Series
An inner voice guided a father to help his daughter build self-worth
A type of near-death experience increased the author's faith
Why are they called "touchstone stories"? According to Costanzo, historically, touchstones were literal stones that were marked with a streak of real gold. Those touchstones were used to help people recognize true gold, make wise trade choices, and build material wealth. Touchstone stories reflect the authentic wealth within all people. Recognizing and remembering this inner wealth can help us make wise choices that enrich our daily lives. "Stories about strength, beauty, courage, and compassion resonate with those qualities in us and bring out the best in us," says Costanzo. "They remind us that we are essentially good, competent, and worthy. They can also lift us out of a sense of doom, which is so needed in today's world. Recognizing our inner strengths gives us more hope and helps us to be happy."
Charlene's latest book, Touchstones: Stories for Living the Twelve Gifts, is the fifth book in her inspirational Twelve Gifts series. The first book signing event will be at Changing Hands in Tempe, Arizona from 1-3 PM on Sunday, October 10. The second event will be in Sedona, Arizona at the Hyatt Hummingbird House on Wednesday, October 10, from 11 AM – 2 PM.
Originally from Linden, New Jersey, Charlene now lives in Sedona, Arizona and Orlando, Florida. Her previously published books include: The Twelve Gifts of Birth, The Twelve Gifts for Healing, The Twelve Gifts in Marriage, and The Thirteenth Gift, in her Twelve Gifts series, and A Perfect Name, a children's book. In addition to publishing books, Charlene leads experiential workshops and speaks about The Twelve Gifts. And, she offers tools for parents, teachers, and clergy to help children recognize their gifts and talents. According to Charlene, many therapists, healing practitioners, and life coaches use her books and self help tools in their work with clients of all ages. For more information about Charlene and her self-worth building work, visit her website.