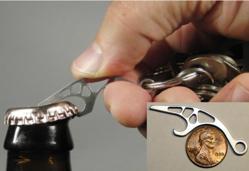 It took over 40 design iterations to create at this perfectly engineered compact key chain bottle opener. KeyShark is the lightest bottle opener on Earth at 1.14 grams.
Kingston, NY (PRWEB) September 24, 2012
The same engineering know-how that is used for designing lightweight tooling for the Aerospace industry has been applied to the humble key chain bottle opener. Using finite element analysis and an understanding of ergonomics, theyve created the "KeyShark (tm)" which weighs only 1.14 grams, the lightest on Earth.
Made from a very high strength aluminum alloy used in airplane frames, the Keyshark is just .093" thick, is minimal in size, and takes an organic form that is purely an outgrowth of the design requirements. "Over 40 iterations were performed to get this particular shape", says the designer. It has a uniquely shaped hook which tucks right under the bottle cap and peels it off rather than trying to pull it straight up, adding to the effectiveness. Patent Pending.
A great little gift for people who have everything - and a great stocking stuffer idea.
More about KeyShark can be seen online at CrankyMonkee.com