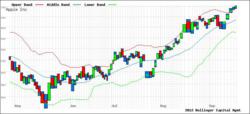 Combining EquiVolume, Bollinger Bars, Bollinger Bands and a series of powerful technical indicators makes for an extremely powerful way to chart the market.
(PRWEB) September 26, 2012
EquiVolume charts differ from standard candlestick price charts in that the bars show more information than just the high, low and closing prices. The width of each bar varies to include volume information.
The strength of this approach is that it takes time off the x-axis of a graph and replaces it with volume. So rather than the steady procession of static-width bars across the chart as a function of time, bars of varying width portray both price progress and the supply/demand forces as trading progresses.
This type of chart was first developed in the 1930s and introduced in Edwin S. Quinn's Investographs as an investment service called Trendographs. In the 1980s Richard Arms continued this work calling the resulting graphs Equivolume, a name that has been adopted in the technical analysis community.
For the charts offered on EquiVolume John Bollinger went back to the source, Edwin S. Quinn, via a 1939 copy of his Trendographs investment service. EquiVolume charts simplify the original process by using volume as a percent of its average volume to delineate the width of the bars, with the indicators anchored to the central vertical axis of each bar. When using the charts, the analytical process is the same as normal technical chart analysis, with the added benefit of the supply/demand dimension being integrated with the price structure.
Says John Bollinger, "I have been fascinated with this concept for a long time, but was never really happy with the presentations that were offered. Combining EquiVolume, Bollinger Bars (our color-coded combination of Western bars and Japanese candlesticks), Bollinger Bands and a series of powerful technical indicators makes for an extremely powerful way to chart the market."
EquiVolume charts can be found on EquiVolume.com and on under the EquiVolume tab at EquityTrader.com and BollingerOnBollingerBands.com. The EquiVolume charts are available at no charge to users.
About John Bollinger
John Bollinger, CFA, CMT is the president of Bollinger Capital Management, Inc., an investment management company that provides technically driven money management. Bollinger Capital Management also develops and provides proprietary research for institutions and individuals.
John Bollinger is probably best known for his Bollinger Bands, which have been widely accepted and integrated into most of the analytical software currently in use. His book "Bollinger on Bollinger Bands" was published by McGraw Hill in and has been translated into nine languages.
John Bollinger is the recipient of the 2005 Market Technicians Association Annual Award for Outstanding Contribution to the Field of Technical Analysis. He is widely recognized because of his market analysis and commentary on CNBC and his speaking engagements at financial conferences worldwide. . He is both a frequent contributor as well as a featured expert for publications including Investor's Business Daily, Technical Analysis of Stocks and Commodities, the New York Times, Los Angeles Times and USA Today.
He is the developer of the following financial analysis websites:

BollingerBands.com
EquityTrader.com
BollingerOnBollingerBands.com
BBForex.com
GroupPower.com
PatternPower.com
MarketTechnician.com
EquiVolume.com
BBScript.net