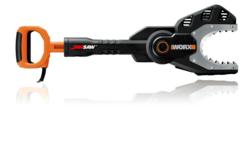 The JawSaw removes much of the bending and lifting out of branches and brush
Charlotte, N.C. (PRWEB) September 25, 2012
When it comes to yard clean-up chores, managing fallen limbs and dead branches has never been easier, thanks to the WORX® JawSaw(TM). This electric-powered saw may not look anything like a conventional chain saw, but it's equally effective when it comes to cutting tree branches up to 4 in. in diameter. And, according to WORX, it's designed and engineered to improve chain saw safety.
Two of the most common fears in handling chain saws are an exposed high-speed chain and kickback. The JawSaw is unique because the jaw of the tool almost completely encloses the chain, guarding the operator from potential contact. The JawSaw's steel, shark-like teeth surround the jaw and hold the wood in place while cutting. The JawSaw makes a scissor cut, driving the bar and chain through the wood from the safest angle.
The JawSaw is safer when sawing downed branches on the ground, as well. Cutting wood on the ground with a conventional chain saw oftentimes allows the chain to hit the ground. This not only can damage the chain and bar, but increases the risk of kickback. The JawSaw's elevated blade design prevents the chain from hitting the ground when cutting downed branches and other debris.
"The JawSaw removes much of the bending and lifting out of branches and brush," said Lauren Gomez, marketing manager for WORX. "Besides being a labor-saving tool, it's eco-friendly and emission-free, compared to gas-powered saws."
The JawSaw also features Auto-Tension, an easy-to-use chain replacement and tensioning system. There's one bolt on the JawSaw's body that does it all. In contrast, most standard chain saws require two separate tools to replace and tension the chain or replace the bar. Besides ease of use, this WORX exclusive tensioning system helps extend bar and chain life and lowers the cost of ownership.
The JawSaw features an automatic oiler system with a reservoir and a clear-view oil level indicator. During operation, the automatic oiler provides constant lubrication to both bar and chain.
An optional 5 ft. extension pole enables the tool to reach tree limbs up to 12 ft. from the ground. The extension pole for the JawSaw (WA0163) requires no tools to attach and can be removed in seconds.
The WORX JawSaw is covered by a limited two-year warranty.
The WORX JawSaw (WG307, $119.99), and JawSaw 5-ft. Extension Handle (WA0163, $39.99) are available at Lowe's and other fine retailers where professional power equipment is sold or by visiting http://www.worxyardtools.com.
Media Contact: MKM Comm., 847/255-1903, mkmcomm(at)gmail(dot)com