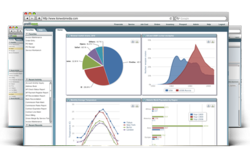 Norcross, GA (PRWEB) September 26, 2012
The new version of ProfitZoom includes several major enhancements that improve overall usability in every area of the product's functionality for existing customers, in addition to streamlining implementations for new ProfitZoom customers. With the recent release of the mobile solution, Version 2 further completes the product suite with enhanced reporting and performance improvement.
John Harlow, President of BravePoint, stated that, "Coupled with our recently released Android Mobile application, Version 2 of ProfitZoom significantly improves field productivity and increases cash flow for our customers. We will continue to add depth to the ProfitZoom product in order to meet the changing needs of our users now and into the future."
ProfitZoom Version 2 was announced at the Synergy 2012 Conference, as users of ProfitZoom and its legacy application gathered for two days of training sessions, networking, and collaboration regarding the ProfitZoom product.
ProfitZoom is the only system of its kind on the market. By integrating all areas of the fire and life safety business, greater efficiencies are created, resulting in increased profitability.