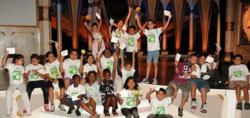 I can safely say that here is a good example of "One man, One vote" working to the benefit of those around us
Clearwater, FL (PRWEB) September 26, 2012
With the voting for the next Presidency fast approaching (only 40 days away) I was inclined to ask how people felt about the power of their vote and what it was worth to them, the result was not what I expected and therefore wanted to re-establish the value of the long held principle "One man, One Vote."
Consumer Energy Solutions "CES" is one of the nation's top energy consulting firms, Consumer Energy Solutions was founded in 1999 and represents some of the largest energy suppliers in North America. CES has enrolled over 1.5 million residential and 300,000 commercial customers across the United States and Canada including many Fortune 500 companies.
Recently Consumer Energy Solutions participated in a voting contest sponsored by Chase Bank in which several thousand Not for profit Charities raced to see who could get the most votes and the winners of this would split over 5,000,000 from Chase, with over 3,000 charities in the running this was no small feat to say the least.
The charity that Consumer Energy Solutions decided to support and vote for was a local charity called The Community Learning Center which CES has been helping to grow for the last 5 years. The Mission of the Community Learning Center is to improve the lives of families through education, to inspire youth by making academics fun and relevant, to provide youth with character and drug education, knowledge of human rights, and life skills so they are well-educated and can make competent and well-informed decisions in life.
The voting started September 6th and went through the 19th. It was a wild ride to say the least and and thanks to Consumer Energy Solutions CEO Patrick Clouden and President Jim Mathers who due to their humanitarian and work efforts all over the globe were able to in the end help the Community learning Center get 2,472 votes from over 50 countries.
In this neck and neck race and by getting the 2,472 votes we were able to secure the Community Learning Center (CLC) a grant of $20,000 to be used to renovate and soon open their new building.
With the aforementioned in mind I can safely say that here is a good example of "One man, One vote" working to the benefit of those around us and showing that your vote does count and does matter.
Know this, each vote to help the Community Learning Center win directly contributed to getting the necessary means to accept the child who in turn will get the needed education to allow himself or herself to be one of the nations future leaders or even the President.