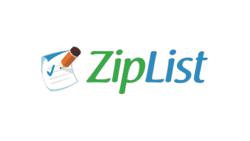 With the rising cost of groceries, it was especially important that we offer our users more powerful ways to save money effortlessly.
Sterling, VA (PRWEB) September 25, 2012
ZipList, Inc., the popular shopping list and recipe box resource, today announces their partnership with GroceryServer.com, the leader in hyperlocal supermarket deals. Capitalizing on their joint mission of making grocery shopping easier, less time consuming, and more affordable for consumers nationwide, the partnership between ZipList and GroceryServer provides users with a streamlined way to plan their trips to the grocery store without having to search through Sunday circulars, their email box for daily deals, or clip coupons to save money.
Now anytime users build a grocery list through ZipList, or on one of their 6,500 partner sites like Martha Stewart or Simply Recipes, they will instantly see which items are on sale at local grocers. For instance, users may discover after adding a liter of Coke to their list, that a 12-pack case of Coke cans is discounted nearby.
This new feature makes meal planning and saving money unavoidably simple. With ZipList's easy one click recipe ingredient conversion to shopping list items (meaning if you've discovered and save a new recipe for lemon chicken, with a click you can add all the ingredients down to the olive oil to your shopping list), you could discover that your local Pathmark has both chicken breasts and lemons on sale. Or perhaps you'll learn that chicken thighs are deeply discounted and you can save on this delicious recipe for dinner simply by substituting a less expensive cut of meat. Since coupons seldom feature fresh meat and produce, and shoppers rarely have time to browse the circulars, they'd unearth both deals and reap the benefits without any extra time and effort on their part.
To tap into this new capability, users can go to ZipList's new Grocery Deals Center, enter their zipcode and can then browse through pages of deals, search for a specific item, or filter for items only at stores near them. They can then add a sale item to their list, with all the associated deal and store information - e.g. the days the sale is available and the address of the store locations.
Each deal has an image so you can see exactly what product it is, a store where the deal can be found, the expiration date, and details on the actual deal. Consumers can add that grocery item and deal right to their any of their shopping lists within ZipList's universal list of partners. Regardless of which website you use to build your grocery lists, ZipList likely powers the technology and will ensure that the same list is available from your computer, your phone, and nearly any other digital device like an iPad or tablet.
Corbin de Rubertis, one of the founders of Grocery Server, was impressed by the value proposition ZipList brought to time and budget conscious consumers. "ZipList gives shoppers indispensable digital tools to help them plan their trips to the grocery store," said de Rubertis. "Grocery Server's overlay of local retail deals will serve to further enhance ZipList's money and time-saving capabilities. Now, you don't need to be a coupon clipper to save money on the recipes you plan to make, ZipList and Grocery Server can do all the work for you."
"With the rising cost of groceries, it was especially important that we offer our users more powerful ways to save money effortlessly," said Geoff Allen, CEO of ZipList. "By partnering with Grocery Server, now we are able to not only help answer the nagging question of 'what's for dinner,' but also, 'what's on sale' without consumers having to do any of the heavy lifting."
Available at launch:

Grocery Deals center on ZipList.com.
Deal recommendations for items users add to their shopping list.
Available in the coming weeks:

A customized WatchList feature that enables users to type in items for which they are interested in getting deals.
Tools to find recipes based on cost savings and what ingredients are on sale.
Tools to help users make their meal plan based on the most deal friendly recipes of the week.
Ability to give users deals based on what they buy and eat most frequently.
For more on ZipList, please visit http://www.Ziplist.com.
###
About ZipList, Inc.
ZipList is a market-leading online and mobile universal shopping list and recipe management service that enables shoppers to create and share grocery lists with family members. Users can arrange their lists by aisle or store and can save recipes to a central recipe box. ZipList has partner tools, fully branded white label experiences and SDKs available to enable media, lifestyle, grocery retail and consumer packaged goods properties to incorporate shopping list and recipe box features into their own sites and mobile apps.
About Grocery Server
Grocery Server aggregates local offers and coupons from hundreds of US retailers each week and integrates them via an API with web content, shopping lists, recipe ingredients, email, mobile apps and social media – so that shoppers can find local savings in real time, without the hassle of coupon clipping and browsing weekly circulars. Grocery Server gives retailers and brands the ability to reach consumers before they make their most frequent shopping trips, and provides unparalleled insights into the consumer decision-making process and local trends.