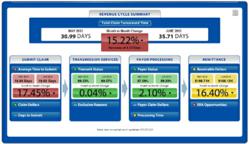 You get what you measure and key metrics allow for financial improvements.
Orlando, FL (PRWEB) September 25, 2012
CollaborateMD (CMD), a leading provider of easy and affordable cloud Medical Billing Software and Practice Management Software announced today the release of their Financial Diagnostics tool. The Financial Diagnostics tool greatly improves visibility into the complete revenue cycle of a claim from the time of submittal to when it is paid.
Within the current economic climate, physician practices require additional tools to achieve their financial goals. The Financial Diagnostic tool provides complete visibility into the financial performance of your business. With access to complete claim and remittance data, users can analyze operational and financial performance to understand trending and make appropriate optimizations to work less and get paid faster, period.
Key performance indicators are displayed in a dashboard, with drill-down capabilities, offering an end-to-end view of the revenue cycle using data compiled from a rolling 13-month period. The performance indicators help isolate problem areas and provide opportunities to address and quickly resolve them.
Douglas Kegler, CEO of CollaborateMD, stated, "Our new Financial Diagnostics tool provides a great method for our customers to measure and improve their financial goals on a day to day basis". Kegler added, "We are always forward looking for our customers to provide the tools they need tomorrow, today so they can work less and get paid faster"
Another key benefit of the Financial Diagnostics tool for customers is the ability to compare their data with other providers. Customers can see how their practices' performance compares to all providers, providers within their specialty, or providers within their geographical region.
About CollaborateMD
Since 1999, CollaborateMD's innovative cloud healthcare software solution has contributed to the financial success of medical practices and medical billing services across the country. CollaborateMD's 100% Java solution, with its simplicity, affordable monthly fees, and 99% First Pass Claim Acceptance rate allows thousands of medical providers to see a true return on investment. CollaborateMD customers enjoy fast implementation, exceptional and unlimited support and most importantly, increased office efficiency and reduced account receivables. For more information, visit http://www.CollaborateMD.com or call 888.348.8457.