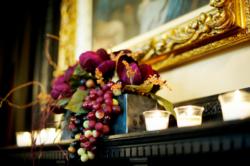 Spice up seasonal decor with all the colors of the season
Jamestown, NY (PRWEB) September 28, 2012
When people picture autumn and harvest decor, they instantly conjure up an image painted with oranges, reds, and yellows. For the holidays, it's usually red and green. This season, however, retailers are offering a larger selection of colors, hoping to encourage consumers to embrace this new trend.
Why limit seasonal decor to a small palette? Instead, be open to all the colors of the season. This includes various tones of eggplant, chocolate, and olive for fall, as well as blues, silvers, pinks, and purples for winter. According to a recent article on JSOnline.com, "Update Your Decor This Fall With the Hottest Colors of the Season", "just because Halloween and Thanksgiving are the major holidays in fall, it doesn't mean you should only deck your home with pumpkins, goblins or turkeys...incorporate the look and feel of the season with textures, finishes and accent pieces...add colorful blankets and throws in different weaves to add interest to your existing furniture".
Afloral.com, an online silk flower retailer, also agrees with this trend. The head of their design team said, "This year, we decided to incorporate more colors in our seasonal design ideas, outside of the usual. We love plums, eggplants, cranberries, pinks, purples, and silver, so we wanted to show our customers how to fit these colors into their seasonal decor." Autumn is about the changing of colors, and there are more colors seen in nature than just three. On top of that, Christmas should embrace the sparkle and shine of this festive season, not just two traditional colors.
Not everyone likes decking out their home with scarecrows, ghouls and goblins or Christmas trees, candy canes, and nutcrackers. Modern decor challenges people to spice up their traditional style, and throw in something that they normally wouldn't. Channel gothic style by using candelabras to add some drama to Halloween decor. How about doing a complete sparkle theme for winter? Use glittered vases, sparkle branches and metallic stems. Be open to this trend, because the possibilities are endless.