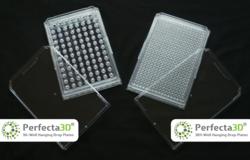 Ann Arbor, MI (PRWEB) September 25, 2012
3D Biomatrix's Perfecta3D Hanging Drop Plates have been featured in several leading professional life science and biotechnology journals and websites in August and September 2012. The articles in Bioscience Technology, The Scientist, Genetic Engineering and Biotechnology News, and Biocompare review the Perfecta3D Hanging Drop Plates and their application as a 3D cell culture tool.
The Hanging Drop Plates, which allow for controllable 3D spheroid or embryonic stem cell cultures in a well plate format, simplify and streamline spheroid formation, culture, and subsequent testing of the 3D cellular constructs without the aid of coatings or matrices. Such cultures grown in Perfecta3D Hanging Drop Plates allow researchers to easily mimic tissue metabolic and proliferative gradients, capture complex cell-matrix and cell-cell interactions, conduct co-cultures, and monitor cell growth easily and regularly.
In its August issue, Bioscience Technology, a print and online biotechnology magazine, spotlights the Perfecta3D 96-Well Hanging Drop Plates as an Editor's Choice technology for new innovative products.
The Scientist, a professional print and online life science magazine that focuses on research news and applications, included the Perfecta3D Hanging Drop Plates in an article in its September 1 issue titled "Enter the Third Dimension." The article reviews five innovative tools for 3D cell culture. Of the five tools, the Hanging Drop Plates are the only technology that does not force cell interaction with surfaces or matrices, and also the only technology described as ready for high throughput and automation for drug discovery. The article also quotes University of Michigan Professor Shuichi Takayama, the inventor of the Hanging Drop Plates.
Biocompare, an online resource for life science product information and new technologies, featured the Perfecta3D Hanging Drop Plates in a September 18 article titled, "Research Tools for Three-Dimensional Cell Culture." The article describes 3D cell culture technologies in the areas of scaffold-free plates, scaffolds, gels and extracellular matrices, and bioreactors. 3D Biomatrix CEO, Laura Schrader, was quoted in the article.
3D Biomatrix published a Tech Note in the September 15 issue of Genetic Engineering and Biotechnology News titled, "3D Spheroid Models Enter Screening Toolbox." Genetic Engineering and Biotechnology News is a prominent biotechnology newsletter. The Tech Note describes the Perfecta3D Hanging Drop Plates, their applications, and published data in drug testing and co-cultures.
"The recent prevalence of articles focusing on 3D cell culture tools demonstrates the growing number of researchers and companies recognizing the importance of 3D cell culture," says Schrader. "We are delighted to be included in these articles, as it demonstrates that the Perfecta3D Hanging Drop Plates are becoming prolific on the market because they are easy to adopt and offer a realistic 3D environment."
More information on the Perfecta3D Hanging Drop Plates and direct links to the articles featuring the plates can be found on the 3D Biomatrix website.