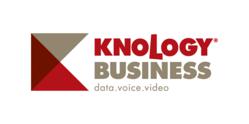 The new website reflects the company's desire to clearly define and position its comprehensive array of communication solutions for small to enterprise-size clients.
West Point, GA (PRWEB) September 25, 2012
Following the introduction of their successful "Data, Voice, Video" branding campaign, Knology Business is pleased to announce the launch of their new website, http://www.knologybusiness.com. Previously, services specifically for businesses such as Internet, phone, cable, and data center services were positioned as secondary to residential offerings within the main Knology website.
Knology Business has succeeded in creating a distinct identity under the larger Knology umbrella. After extensive research and discovery, the branding process has culminated with the release of the new website and domain.
"One of our core beliefs is accessibility," said Betsy Hearn, Senior Corporate Marketing Specialist of Knology Business, "A unique website focused solely on our suite of business solutions will provide valuable awareness and details for both existing and potential customers to use to their advantage, in order to leverage their place within the market."
The new website reflects the company's desire to clearly define and position its comprehensive array of communication solutions for small to enterprise-size clients. The new site showcases the results of extensive rounds of UX testing and provides a true user-friendly experience. As a result, the information and benefits about Knology Business' forward thinking pure fiber connections, business phone systems, and data center solutions are clearly organized and easy to find.
A key component of the site design is the inclusion of online portals, where customers can log in to view data about peak call times and volume, empowering business owners to be more proactive with their clientele and adjust operations instantaneously for gains in efficiency and overall customer satisfaction. In addition, those who utilize the portals are able to activate and completely customize the features of their VoIP phone systems, such as voice call routing, hunt groups, auto attendants, visual voice mail, and phone programming, for individuals and groups of employees.
"We are especially excited about the capabilities and personalization we are able to offer our customers with this level of sophistication," said Hearn, "One of our main goals is to make the jobs of business owners, business executives, and employees everywhere easier. These online tools are an important step in realizing that goal."
As a company dedicated to the support of its customers and products, Knology Business has also included a prominent Support section, where the local phone number and address of each Knology Division can be retrieved for additional assistance, 24/7. Aids in troubleshooting and enabling IP phone features can also be downloaded via instruction manuals from this section.
In addition to providing speeds hundreds of times faster than T1 Internet connections and advanced phone solutions for companies of all sizes, business owners now have the ability to take advantage of specialized Data Center Services. While all communications with Knology Business take place over a privately owned secure network, remote data backups can be scheduled nightly to preserve critical data in case of unforeseen emergencies. Sensitive data is stored in HIPAA and PCI compliant facilities to meet the most rigorous of compliance standards.
Those interested in learning more about this, as well as other product offerings including PBX systems, are encouraged to visit http://www.knologybusiness.com, or dial 877-KNOLOGY.
Direct Inquiries:
Betsy Hearn
Senior Corporate Marketing Manager
(678) 870-1219
## ## ##
About Knology Business Services
Knology Business provides reliable and sophisticated voice, data, and video services that are competitively priced for small to enterprise level companies. Knology Business services many locations throughout Alabama, Georgia, Florida, Kansas, South Carolina, South Dakota, and Tennessee.