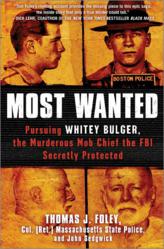 Chicopee, MA (PRWEB) September 26, 2012
As part of Elms College's Center for Law and Justice Lecture Series, retired Massachusetts State Police Colonel Thomas Foley will speak at Elms College at 5:30 p.m., October 18 in the Alumnae Library Theatre. His topic, Most Wanted: The pursuit of Whitey Bulger, will cover Foley's investigation that led to murder and racketeering charges against James "Whitey" Bulger.
Foley will discuss how he conducted the investigation that eventually led to the Irish mobster's capture. His book, "Most Wanted: Pursuing Whitey Bulger, the Murderous Mob Chief the FBI Secretly Protected," will be available for sale and signing. This event is free and open to the public, but advance registration is required. To register, go to http://www.elms.edu/mostwanted.
The Center for Law and Justice Lecture Series continues with attorney Jan Schlichtmann on November 15. Schlichtmann argued the Anderson v. Cryovac case in the 1980s, which was made famous by the book and movie, "A Civil Action." Two additional lectures are planned for the spring 2013 semester.
Elms College is a co-educational, Catholic college offering a liberal arts curriculum that gives students multiple perspectives on life. Founded in 1928 by the Sisters of St. Joseph, Elms College has a tradition of educating reflective, principled, and creative learners, who are rooted in faith, educated in mind, compassionate in heart, responsive to civic and social obligations, and capable of adjusting to change without compromising principle.