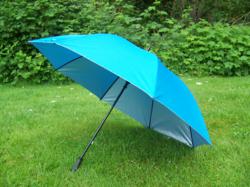 Our large range of affordable and attractive wholesale umbrellas, come in a variety of materials and colors to meet the demands of any event imaginable!
(PRWEB) September 26, 2012
The umbrella has been around for decades and has done a fantastic job of keeping those harmful UV rays from burning the skin and the. Plus, since they come in an assortment of sizes, colors and shapes, they are favorites during outdoor themed weddings and parties. The online wholesaler, WholesaleMart has announced their own dedication to this favorite portable canopy by announcing the launch of their own range of assorted and colorful umbrellas.
The company deals in all kinds of wholesale umbrellas that can be ordered in bulk, no matter which kind or color is required. This includes wholesale umbrellas for golfing trips, mini umbrellas for kids of all ages, bubble dome umbrellas that can go with any dress, and wedding themed white umbrellas that can be used to add an extra glow on such memorable occasions. Additionally, unlike store bought umbrellas, these umbrellas are quite cheap, which is why they are such popular choices to purchase for get-togethers, weddings and other parties.
WholesaleMart also offers bulk quotes on larger wholesale purchases. Additionally, clients also save money via their cheap flat rate shipping service. What makes these cheap umbrellas even cheaper is that they can be re-sold. This way no one has to contend with a bunch of unwanted umbrellas once the festivities end. The company also provides cheap umbrellas to other sellers such as eBay auctions, retail stores, fundraisers, gift shops, flea market sellers and others.
When asked about the inspiration behind this scheme, a sales rep of the wholesale service John Vanser had this to say, "We have always been dedicated in making sure our customers receive the best products possible at prices that don't make them cringe. Our large range of affordable and attractive wholesale umbrellas, come in a variety of materials and colors to meet the demands of any event imaginable! This is what makes us stand out and is something we are eager to continue by introducing more types in the future."