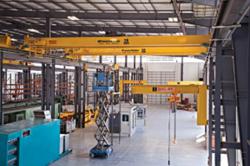 After the Salt Lake City acquisition, we noticed an increase in service and inspection calls in Arizona.
Houston, TX (PRWEB) September 26, 2012
ProservCrane Group has opened doors to a new field office in Avondale, AZ, expanding their overhead crane operations across the entire Western United States and making them one of the largest independently-owned overhead crane manufacturers in the country. The added location will
increase ProservCrane's service offerings througout the west coast.
The new office located at 1050 N. El Mirage Rd., Suite 112 in Avondale, AZ, a suburb of Phoenix, AZ, was opened to help support ProservCrane's Salt Lake City operations, formerly OCI, LLC which was acquired by ProservCrane Group in April 2012. Centrally located between the ports of Los Angeles and Houston, the AZ location will help increase services from Southern California to Texas and across the Mexican border.
"After the Salt Lake City acquisition, we noticed an increase in service and inspection calls in Arizona." says Brad Wilson of ProservCrane Group. "...and just before the acquisition, OCI had closed doors to their Mesa, AZ office, so it was only logical to reopen in the Phoenix area where there is a growing need for overhead crane services."
With production operations in Houston, Irving and Salt Lake City and field offices in San Antonio, and now Phoenix, ProservCrane Group manufactures about 900 cranes a year, mainly for the oil and gas industry with capacities from 1/4 to 250 US tons.
In addition to cranes, ProservCrane produces custom built-up hoists and in 2010 they ramped up their hoist production.
"Our hoist design has been used for over 15 years and has proven to sustain the most demanding
applications," explains Wilson. "…and since then we have seen tremendous growth in heavy duty custom components and look forward to future innovations."
On March 5, 2012, ProservCrane opened doors to a 12,000 sq. ft. parts and accessories facility which houses over 10,000 ready-to-ship crane components.
"We want to be your one-stop shop for all your material handling needs." adds Wilson.
Future plans include the launch of a ProservCrane e-quipment at http://parts.proservcrane.com a parts and accessories e-commerce site that will further support their parts and accessories business.
For additional information contact:
ProservCrane Group
p 281.405.9048 | f 281.448.7506
marketing(at)proservcrane(dot)com
http://www.proservcrane.com
Founded in 1987, ProservCrane Group, an industry leader in overhead crane technology has supplied many of the world's largest Fortune 100 companies as well as smaller start-up businesses with the highest quality overhead crane products and services in the material handling industry. ProservCrane designs, builds, installs services and performs OSHA compliant inspections for customized overhead crane systems.