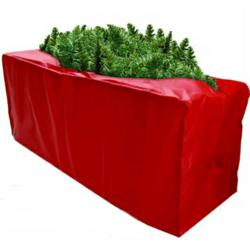 Christmas tree storage bags are really a great alternative to cardboard boxes that are bulky and tend to fall apart after a few years.
Urbana, IA (PRWEB) September 25, 2012
SpaceSavers.com is gearing up for the fall and holiday season by adding several new products to its website.
Artificial Christmas tree storage is a popular category that continues to grow every year, according to SpaceSaver's merchandise manager, Kati Davis. The company, known for its hundreds of storage and organizational items, has been gradually increasing its entire line of holiday storage containers, and often hears from customers asking how to store artificial Christmas trees. "Christmas tree storage bags are really a great alternative to cardboard boxes that are bulky, difficult to carry, and tend to fall apart after a few years," said Davis. "Our artificial Christmas tree storage bags range from 48" long to 58" long, and have built-in handles to make them easy to carry."
Davis says another expanding category at SpaceSavers is its line of products for kids. LEGO organizers and storage items are a hot commodity each holiday season and this year SpaceSavers has added a project case and three-drawer storage system for the LEGO® Friends line. The new line, geared for girls, features colorful storage pieces in pink, purple and lime green.
A few of the products in the kids category, such as the company's Lockermate line, were popular for back-to-school, and are still in demand by customers. Davis says they see locker items as no longer just a fall seasonal item, and instead plan to carry them year 'round. "Our wire locker shelf from Lockermate was extremely popular, so we decided to bring in a wider selection of locker shelves which really make great gift ideas for 'tweens and teens," said Davis.
Another popular category, pantry organizers is getting an overhaul with new under shelf baskets from Panacea. "Under shelf storage is becoming more popular because it's such an easy way to add an extra storage spot- you simply slide it onto an existing shelf so there's no drilling or installing," said Davis. Sizes available in the Panacea under shelf baskets line include a 12" size, 17" size and 21" size.
SpaceSavers also recently announced that it is extending its "Get Organized Giveaway" deadline to October 31, 2012. Customers are urged to take a picture of their latest organizing project and send it, along with a quick summary (500 words or less) to the company via email. The items used in the project do not need to be Space Savers items. Winners will be awarded a prize package from SpaceSavers and may have their projects featured on SpaceSavers.com. For full contest details, see the SpaceSavers.com blog.
About SpaceSavers.com
SpaceSavers.com is an e-commerce website selling a variety of storage and organizing solutions for the home, garage and office, from popular brands like IRIS USA®, Closetmaid®, Umbra®, and Rubbermaid®. Headquartered in east central Iowa, SpaceSavers is owned and operated by Clickstop.com. Other Clickstop web property brands include USCargoControl.com, Bellybling.net, EcoFoil.com, and JustPlasticBoxes.com.