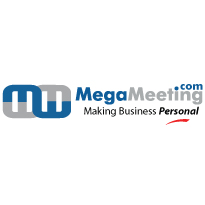 We are the insurance agency for today's modern world and MegaMeeting.com has been a big part of our success!
Sherman Oaks, CA (PRWEB) September 25, 2012
NuSurance Corp, a full service online Insurance Agency headquartered in Florida has taken a cutting-edge approach in training and educating clients. Through their innovative "Lunch and Learn Series", NuSurance Corp hopes to accommodate new clients by offering informative webinars on a weekly basis that are geared towards helping teach the basics of insurance policies.
Since the day their agency opened in 2006, NuSurance Corp, has been using the power of the internet and MegaMeeting.com's web-based video conferencing platform to their advantage, allowing the company to provide their clients with a one-of- a-kind service. Departments throughout the organization such as their sales, training and administration departments, as well as agency executives and Board of Directors, use MegaMeeting.com to conduct company meetings and online product demonstrations.
NuSurance Corp insurance agents use MegaMeeting.com to conduct online appointments with their insured. Because MegaMeeting.com doesn't require attendees to download anything to participate in a meeting, NuSurance Corp clients can setup online video conferences with agents and discuss insurance coverage face-to-face, from the comfort of their own home without having to waste money on gas or time on travel.
"We are the insurance agency for today's modern world and MegaMeeting.com has been a big part of our success!" stated Chris (CP) Kazor, President of NuSurance Corp. Now with the assistance of MegaMeeting.com's Webinar product, packed with robust collaboration and communication tools such as high quality video, built-in VoIP audio and the capability to show PowerPoint presentations, NuSurance Corp can take their client interaction much further.
For more information on NuSurance Corp's new "Lunch and Learn" seminars, as well as how MegaMeeting.com's video conferencing solution has set them apart from other insurance agencies, please go to http://www.nusurance.com/webinars-lunch-and-learn-series/learn-insurance-nusurance-lunch-and-learn-wednesdays-noon-est/
About MegaMeeting.com (http://www.MegaMeeting.com)
Founded in 2003, MegaMeeting.com is a leading provider of 100% browser-based web & video conferencing solutions complete with real time audio and video capabilities. MegaMeeting.com is a completely browser-based solution that works on all major operating systems – Windows, Mac & Linux as well as iPhones, iPads and Android enabled tablets or mobile devices. MegaMeeting.com provides universal access without the need to download, install or configure software. Their web conferencing products and services include powerful collaboration tools that accommodate robust video & web conferences, including advanced features such as desktop/application sharing, i.e. Word and Excel documents and PowerPoint presentations without the need to upload any files. MegaMeeting.com is ideal for multi-location web based meetings, virtual classrooms, employee trainings, product demonstrations, company orientation, customer support, product launches and much more.
For more information please visit http://www.megameeting.com or call (818) 783-4311.