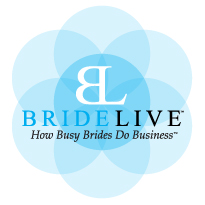 We are excited to be back with not only an improved product, but with an army of event professionals across the globe that are engaging their clients with this technology
Los Angeles, CA (PRWEB) September 25, 2012
The BrideLive team will be attending the Wedding MBA' s Ninth Annual Convention Oct. 2-4, 2012 in Las Vegas Nevada, where they will hold both a seminar and exhibit about their revolutionary web conferencing software created specifically for professionals in the wedding and event industries. "The Video Conferencing Solution," a seminar presented by BrideLive founders Bob Scott and Jay Thomson, will be held Thursday, Oct. 4 at 9 a.m. in Room 224. Attendees of the conference can find the BrideLive exhibit at booth #5124A.
"This is the second year BrideLive will be participating in the Wedding MBA National Convention," said Jay Thomson, Co-Founder of BrideLive. "We are excited to be back with not only an improved product, but with an army of event professionals across the globe that are engaging their clients with this technology and making it the easiest way to meet."
The BrideLive seminar will show wedding and event professionals why 21st century customer service through video conferencing is the key to booking more brides. Industry leader Peter Merry will also join the discussion to give a behind-the-scenes look on preparing and executing a BrideLive meeting.
Attendees of the BrideLive booth will be able to watch live demonstrations put on by the BrideLive team, giving them first-hand experience with the user-friendliness of the software. Attendees will also be able to ask questions and get answers from the BrideLive team, in addition to receiving discounted rates on monthly or yearly subscriptions exclusive to those who sign up at the show.
Since its launch in 2011, BrideLive has been giving wedding and event professionals access to web conferencing tools specific to the needs of their industry. Unlike other video conferencing programs, BrideLive is completely web-based and requires no downloads or plugins. Built-in VoIP, audio sharing, desktop sharing, online planning forms, and more give professionals all the tools they need to create engaging, convenient meetings with their clients.
"Attending our seminar and booth is a must if professionals have BrideLive, are thinking about getting BrideLive, or just want to bring their business into the 21st century!" Thomson said.
To learn more about the Wedding MBA Ninth Annual Convention, including information about seminars and registration, please visit http://www.weddingMBA.com.
About BrideLive.com
Headquartered in Sherman Oaks, California and based on technology that has been in development and commercial production for over eight years, BrideLive.com launched in 2011 as a custom software company and is frequently recognized for its rapid sustained growth, product excellence, and superb multi-media user interface. Through their cutting-edge technology BrideLive.com has been able to provide a web-based virtual meeting space used by wedding planners, photographers, DJs, florists and other professionals in the wedding industry who wish to leverage the power of online, personalized meetings to convert leads, grow sales, and save time. BrideLive offers mobile apps for iOS and Android users, making its state-of-the-art solutions easily accessible via iPhones, iPads, as well as all Android enabled tablets and smartphones.
For more information on BrideLive.com please visit http://www.bridelive.com or call 888.976.9906.