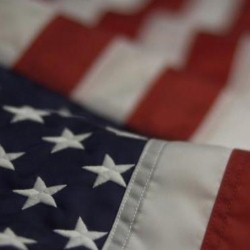 Labeling a product's origin has become increasingly important, as Americans have shown an increasing commitment to buying domestic in hopes of stimulating the economy.
Denver, CO (PRWEB) September 25, 2012
Lightning Labels, a custom label and sticker printing leader, is focused on promoting and supporting the U.S. economy by using materials and supplies manufactured in the United States. Drawing from recent research and analyses of economic trends and consumer preferences, Lightning Labels affirms its ongoing commitment to U.S. production.
"With the unemployment rate hovering above 8 percent, and the housing market still recovering from the cataclysmic collapse five years ago, many consumers are looking for the light at the end of the tunnel," says Business Development Manager AnneMarie Campbell. Lightning Labels notes that businesses and consumers alike need to look no farther than their neighbors; a united America, focused on domestic job growth and internal innovation, is the key to a full-fledged recovery. This pride in American manufacturing and development has grown since the recession, with consumers cognizant of where the products they purchase are manufactured and businesses proudly displaying "Made in the USA" labels.
A J.D. Power and Associates study from January 2012 showed that the number of Americans who avoided imported automobiles increased to 14 percent in 2012, accounting for the highest level since the study began in 2003. Conversely, the study also showed that the percentage of buyers who avoided domestic models fell to 6 percent, also a historic low level. This provides substantial insight into how sales of U.S.-made cars benefit the country's economy, considering half of the 2.2 percent economic growth during the first quarter of 2012 was from motor-vehicle output.
Americans' preference for U.S.-made goods isn't just limited to vehicles, though. A Harrison Group and American Express study showed that 65 percent of high-end shoppers prefer to buy American products.
According to ABC News, if each American spent an extra $3.33 a week on products that were "Made in the USA" nearly 10,000 new jobs would be created.
Labeling a product's origin has become increasingly important, as Americans have shown an increasing commitment to buying domestic in hopes of stimulating the economy. A Consumer News Facebook survey showed that 41 percent of respondents who tried to buy a product "Made in the USA" said they could not identify which products were made in the United States. The results suggest many companies may need to improve their packaging and labeling strategies to better incorporate the manufacturing location of their products.
The Tariff Act of 1930 required that nearly every product imported indicate where it is made. This was done in order to help consumers better recognize items that were made in the United States and those that were made elsewhere, particularly in Asia. In order to get the "Made in the USA" label, all significant parts and processing of a product must be made in the United States.
Companies still on the fence about the value of the "Made in the USA" label may want to consider some of the top reasons identified by Lightning Labels why Americans opt to purchase goods manufactured in the states versus overseas.
1) Foreign labor standards are not as stringent as those in the United States and, thus, allow for poor treatment of workers in many countries where jobs are being outsourced. Buying American not only ensures support to American manufacturers and jobs, but also demonstrates to consumers that a company is providing for safe working conditions and adhering to child labor laws. Minimum wage is not carried out in many places where products are being made, so buying American means supporting an honest day's work.
2) The U.S. manufacturing process is better for the environment when compared to many other countries, an issue that resonates with thousands of American consumers. Many of the brands sold in the United States and manufactured elsewhere are done so at the expense of Mother Nature.
3) Buying American now means supporting future generations to come. Outsourcing of jobs has led to the high unemployment rate and this could spell doom for the country's future. At a time when Americans need to rally together to work through the country's financial troubles, Lightning Labels recommends companies take the appropriate steps so they can proudly label their products as "Made in the USA." For those who are ready to order labels, Lightning Labels is offering *15% off new orders placed by September 30, 2012, with promo code CELEBRATE.
*15% off CELEBRATE offer valid on new label orders. Does not apply to reorders. Maximum discount is $1000. Free ground shipping applies to orders in the United States and Canada. Applies to regularly priced orders only. Enter code at checkout. This offer cannot be combined with any other offers or promotions.
About Lightning Labels:
Lightning Labels uses state-of-the-art digital printing technology to provide affordable, full-color custom labels and custom stickers of all shapes and sizes. From small orders for individuals, to the bulk needs of big businesses, Lightning Labels is equipped to handle and fulfill sticker and label projects of all types. Best of all, like the name implies, Lightning Labels provides a quick turnaround to every customers' labeling needs. Uses for Lightning Labels custom product labels and custom stickers include food packaging and organic food labels, wine and beverage labels, bath and body labels, and nutraceutical products, such as vitamins, essentials oils, and herbal remedies, as well as event stickers, adhesive window stickers and more. Lightning Labels strongly supports the development of environmentally friendly printing materials and carries EarthFirst PLA, a new kind of green label material made from corn instead of petroleum. While operating as a high-tech printer, Lighting Labels prides itself on its personalized customer service. For more information and to place orders online, visit LightningLabels.com. For the latest in packaging news and labeling promotional offers, find Lightning Labels on Facebook, Twitter (@LightningLabels), and Google+.