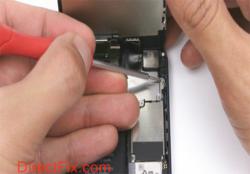 "We hope that people that purchased the new iPhone 5 enjoy it and take good care of it but accidents happen and when they do you can save money and fix the iPhone 5 yourself" says Robert Stanley, founder of DirectFix.com
Morgan Hill, CA (PRWEB) September 24, 2012
Within hours of the iPhone 5 being available to the public, DirectFix.com has just released a full HD teardown of the unit. The video includes directions on how to teardown the iPhone 5 and replace/repair the screen, battery and many other parts if the unit breaks soon after leaving the Apple store.
Just like the iPhone 4/4S, the iPhone 5 requires that the screen is replaced as one unit and the LCD is not able to be separated from the Touch Panel, since these parts are fused together at the factory.
For the Do It Yourself people, DirectFix has also released on their webpage iPhone 5 repair parts and coming soon, a screen repair in both black and white. There is a limited supply of iPhone 5 parts available at this time.
Just like in the past, DirectFix.com was the first to carry parts for the iPhone 5 as soon as it was available. "We hope that people that purchased the new iPhone 5 enjoy it and take good care of it but accidents happen and when they do you can save money and fix the iPhone 5 yourself," says Robert Stanley, founder of DirectFix.com.
"Just like in the past, manufacturers charge an outrageous amount of money for a simple repair. By following the video directions, you can save money with just a few minutes of work," explains Mr. Stanley.