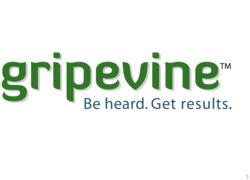 I believe there are certain universal truths about customer service with any size business.
(PRWEB) September 24, 2012
Many inconvenienced flyers flocked to the Internet with their tales of woe after a significant number of American Airlines flights were delayed or canceled. Gripevine was one website customers used to file a complaint against the airline. Unlike other social media outlets, Gripevine offered a neutral forum for companies such as American Airlines and their customers to work together towards a win-win resolution to service issues.
"Our goal is not to antagonize a company or bully them via social media into dealing with a customer service issue, but rather offer tools to assist companies in the resolution process," said Dave Carroll, co-founder of Gripevine.
Consumers can post legitimate complaints about any company on Gripevine. The complaints are then automatically routed to the attention of company decision makers who have the power to resolve them. To make it easier for a company to assess the complaints, Gripevine delivers a well-documented summarized complaint form which may include an explanation of the problem as well as photos and video evidence to support any claims. Unlike other sites, companies are invited to respond directly to their customers through Gripevine's proprietary resolution dashboard in a private manner
American Airlines said it planned to cut more than 1% to 2% of its schedule for the rest of September and October, reported the Los Angeles Times. Labor issues, bankruptcy proceedings and layoffs have been at the center of the disruptions to passenger services.
"While I don't profess to have experience in running a big corporation nor do understand the challenges that go with such responsibilities, I believe there are certain universal truths about customer service with any size business. When flights are cancelled by American Airlines, the consumer should not be left holding the bag for the disagreements and infighting as the airline deals with its issues," said Carroll.
The airline blamed the cancellations and delays on reasons that included an increased number of calls for maintenance work filed by flight crews and a surge in pilot sick leave, said the LATimes. The union denied that pilots maliciously disrupted or delayed the flights.
"While business leaders face challenges beyond their control when it comes to labor disputes or cost cutting, they must also minimize the disruption to passengers. Doing so is an investment in good customer service. If I could offer one piece of advice to the American Airlines organization it would be this: avoid doing things that makes customers never want to do business with you again. Inconveniencing your customers to send a message to someone else is extremely self defeating," said Carroll. "How a company addresses breakdowns in service will have enormous impact on customer satisfaction, repeat business, and, ultimately, profits."
On Gripevine, businesses can also proactively sign up to hear complaints and resolve them privately or in an open, transparent fashion. Not only does the consumer get a chance to voice their issue to the company and the world, but the company gets the chance to make it up to the user publicly.
Customers who want to file a complaint about American Airlines, be heard on Gripevine at gripevine.com
About Dave Carroll and Gripevine:
Dave Carroll is the creator of one of Time Magazine's "2010 Top Ten Most Viewed YouTube Video." In 2008, Carroll wrote a protest song called "United Breaks Guitars," which chronicled his real-life experience with United Airlines after the airline broke his guitar during a trip. The skyrocketing success of the video and the incident inspired Mr. Carroll and his business partner, Richard Hue, to create Gripevine.
Gripevine connects customers and companies on a fair and level public playing field where they can come together to create win-win resolutions to common consumer complaints. Customers can use Gripevine to leverage the power of social media to get their stories heard by publicizing their gripes about businesses and/or brands online. Gripevine then automatically notifies the company about the complaint and invites them to visit the site and work towards a customer resolution. Companies can use their Customer Satisfaction Index on Gripevine to show the world the quality of their customer service. By leveraging the power of social media, both groups of users can ultimately affect a company's Customer Satisfaction Index on Gripevine, which provides an effective scale for the quality of customer service.