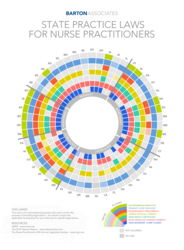 Barton Associates created the Nurse Practitioner Scope of Practice Law Guide to provide a snapshot of the scope of practice laws in each state
Boston, MA (PRWEB) September 25, 2012
Barton Associates is excited to announce the launch of its Nurse Practitioner Scope of Practice Law Guide, an interactive tool that displays information about the state laws that regulate nurse practitioners in the United States.
As a leading physician and nurse practitioner locum tenens company, Barton Associates is committed to providing the resources its locum tenens clients need to succeed. In the last year, Barton Associates has experienced a significant increase in demand for locum tenens nurse practitioners in both primary care and other specialties. This dramatic growth in demand coincides with an increase in the number of practicing nurse practitioners. There are 157,000 nurse practitioners practicing in the United States, which represents a 40% increase over the last five years. With an anticipated shortage of primary care providers, nurse practitioners are expected to play an increasing role in the healthcare industry. Across the nation, more schools are offering nurse practitioner programs, more companies are hiring nurse practitioners, and more patients are choosing nurse practitioners as their primary care provider.
State law dictates a variety of factors affecting nurse practitioners, including the ability to practice autonomously, prescribe medication, serve as primary care providers, order physical therapy, sign death certificates, sign handicap parking permits, and sign workers' compensation claims. For example, in 16 states (Alaska, Arizona, Colorado, Washington, Hawaii, Idaho, Iowa, Maine, Montana, New Hampshire, New Mexico, North Dakota, Oregon, Rhode Island, Vermont, and Wyoming) and the District of Columbia, nurse practitioners have plenary authority, which means that can practice as an independent provider. The 34 remaining states require nurse practitioners to either collaborate with, or be supervised by, a physician.
Barton Associates created the Nurse Practitioner Scope of Practice Law Guide to provide a snapshot of the scope of practice laws in each state. Locum tenens (travel) nurse practitioners who are considering an assignment in a new state can use the tool to view the laws and understand the scope of services they can perform. Non-locum tenens nurse practitioners may also find it interesting to see how their state compares to others.
To learn more about the growth of nurse practitioners and the emerging opportunities available to them, visit the Barton Associates Blog to read and download the PDF version of "Nurse Practitioners: Poised for Growth".
To learn more about Barton Associates locum tenens staffing solutions, please visit http://www.bartonassociates.com.
Barton Associates is a leading national locum tenens staffing company serving physicians, nurse practitioners, hospitals, medical practices, and companies across the U.S. from national staffing offices in Massachusetts, Connecticut, and Florida.