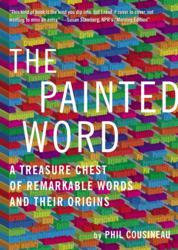 Cousineau makes us Argus-eyed…you definitely need this book.
—Lemony Snicket
(PRWEB) September 25, 2012
Joseph Campbell described Phil Cousineau as a five-tool threat—a writer, photographer, filmmaker, editor, and teacher. As the great Huston Smith says, "Cousineau's love affair with words in contagious." From the medieval scourge of abbey-lubbers to the unpronounceable floccinaucinihilipilification (considered the longest English word by the Oxford English Dictionary) to the Maori ghost-word zzxjoanw. Cousineau will clear up the bafflegab and pandemonium, and remind you that you too are a philomath (or at the very least a Phil-o-phile). And don't miss Phil Cousineau's Global Spirit on PBS, described by series host John Cleese as "the world's only internal travel show." Listen to the audio book of Wordcatcher as well!
Join Phil at these events:
9/25: Boswell Book Company, Milwaukee - 7pm
10/4: Golden Notebook, Woodstock - 7pm
11/7: The Inside Edge, Irvine - 7am
11/7: Warick's, La Jolla - 7:30pm
11/8: Book Soup, Los Angeles - 7pm
11/9: Esalen, Big Sur
To untangle the knot of interlocking meanings of these painted words, logophile and mythologist Cousineau begins each fascinating word entry with his own brief definition. He then fills it in with a tint of etymology and a smattering of quotes that show how the word is used, ending with a list of companion words. The words themselves range from commonplace—like biscuit, a twice-baked cake for Roman soldiers—to loanwords including "chaparral," from the Basque shepherds who came to the American West; words from myths, such as "hector;" metamorphosis words, like "silly," which evolved "holy" to "goofy" in a mere thousand years; and words well worthy of revival, such as "carrytale," a wandering storyteller.