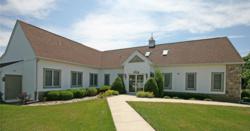 Bucks County, PA (PRWEB) September 25, 2012
Dr. Edward A. Marcus of Floral Vale Periodontics & Implants, P.C. is pleased to offer the Laser Assisted New Attachment Protocol to patients who suffer from gum disease. Periodontal disease is experienced by millions of adult Americans each year, yet many of them do not seek treatment. The new LANAP procedure may encourage more patients to request treatment.
Gum disease often begins as gingivitis and can range from simple inflammation of the gums to seriously damaged bone and soft tissue, and the loss of teeth. Bacteria form plaque on the teeth that can harden into tartar. If this is not removed regularly, the bacteria cause inflammation and sore gums. When this condition is not treated, the gums actually pull away from the teeth and the spaces they leave are called pockets; these can become infected by bacteria. The toxins from the bacteria, as well as the body's infection fighting response, begin to break down the bone, which can lead to loose teeth.
Dr. Marcus uses the LANAP procedure to turn this problem around. The PerioLase MVP-7 laser selects the bacteria in the pockets and the gum tissue that is already diseased and removes them. The healthy tissue is not adversely affected and is stimulated through clotting, attaching to the tooth where the pocket used to be. The laser also stimulates the damaged bone to begin regeneration.
It is important to follow a dentist's instructions when caring for teeth so that gum disease is less likely to occur. If you have periodontal problems, it is important to get treatment so that additional dental problems do not occur. The LANAP treatment is only minimally invasive and has an excellent record of success. With a short recovery time, many patients are able to return to normal activities soon after treatment. For more information on how to avoid periodontal disease and the LANAP treatment, visit http://www.mercerbucksperiodontist.com.
Floral Vale Periodontics & Implants, P.C., is a periodontal practice offering patients personalized dental care for the Bucks County area in Pennsylvania. Dr. Marcus received his undergraduate and dental education at Temple University where he graduated ranking first in his class from dental school. His post-doctoral training in Periodontics and Fixed Prosthodontics was completed at Temple University School of Dentistry. Dr. Marcus is one of only a handful of dentists in the United States that holds American Dental Association accredited specialty certification in both Periodontics and Prosthodontics. Dr. Marcus has 30 years of experience in dentistry, and is part of one percent of dental professionals providing the most recent FDA cleared laser procedure for gum disease and periodontal treatment. To learn more about Dr. Edward A. Marcus and his dental services visit his website at http://www.mercerbucksperiodontist.com and call 215.600.4962.