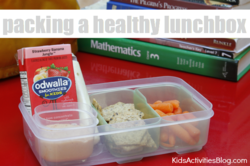 Laminated pictures for lunch boxes and attached to glass plates help kids make healthier choices.
Dallas, TX (PRWEB) September 29, 2012
My Plate has replaced the Food Pyramid this year as the food guideline for American dinner tables. Moms at Kids Activities blog have taken these new federal guidelines to another level and are blogging about Lunch box activity and have come up with a Lunch box guide.
The lunch box activity is designed to inspire kids to pack their own lunch box with good food choices. This teaches the kids to take responsibility of their own food choices while learning about nutrition and good health. One Moms inspiration to transform the colorful My Plate template from the Federal Health Administration and change it into a Lunch Box shaped picture for her kids has Moms blog in numbers about their new lunch box food choices.
The lunch box guide, presenting the five major food categories, was cut out and laminated. Afterwards, her kids were to match food from the pantry according to the pictures. This activity was done for packing their lunch box and was even replicated at the dinner table.
For dinner, glass plates were used with laminated colorful My Plate templates attached underneath the plate. The kids were then encouraged to match their food choices according to the template under their plates. This activity changed the kids behavior instantly, even the older ones.
The My Plate for kids ideas on Kids Activities Blog are endless. Moms have come up with great ways to ensure that their kids are taking charge and making healthy decisions during their meal times. The My Plate lesson plan, shown on Kids Activities Blog, shows that not only are the kids eating healthy food but they are also using their math skills, learning about cooking, learning about their body, and are becoming more responsible by making wise decisions.
Health is important and Moms are taking the new Federal My Plate Guidelines for Kids to a higher level by talking about their ideas on Kids Activities Blog. Check it out.