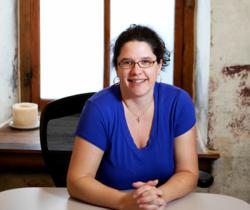 WeejeeLearning has that combination of creativity and nimbleness to ... bring new and more effective solutions to its clients quickly.
Durham, NC (PRWEB) September 25, 2012
WeejeeLearning is pleased to announce its recent hire of Aimee Bickers, who has joined the Weejee team as Program Manager. In this role, Bickers will maintain a primary focus on clients' overall experience and quality of deliverables, as well as help develop processes and procedures to improve operational efficiency. Bickers' proven background in project management and business administration will help ensure WeejeeLearning continues to grow at its current pace, allowing the company to further its leadership position within the online learning space.
"We're seeing a rapid evolution of delivery platforms and technologies," says Bickers. "WeejeeLearning has that combination of creativity and nimbleness to work with these technologies in order to bring new and more effective solutions to its clients quickly."
Bickers comes to WeejeeLearning with 12 years of experience in the learning industry. She is a PMP certified e-learning specialist and has an MBA from NC State University. Over her career with several leading e-learning companies, she has honed her project management expertise along with her instructional design, marketing, and client interface skills. In addition to e-learning, Bickers has a background in photography and design and is a published novelist. She lives in Apex with her husband, teenage son, identical twin daughters and a set of four lazy animals, all of which are black and white.
Bickers' appointment comes during the company's fastest period of growth. "WeejeeLearning is experiencing double-digit growth and increasing customer interest, which has to do with our aggressive approach to creating higher levels of integrated learning across the enterprise," says Ian Huckabee, CEO at WeejeeLearning. "Aimee's depth of experience and track record of success are exactly what the company needs for our next phase of growth."
-----------
About WeejeeLearning, LLC: WeejeeLearning, LLC is a custom e-learning, social learning and mobile learning solutions provider for corporations, non-profits and educational institutions. WeejeeLearning specializes in integrating enterprise-wide learning solutions to improve performance and drive business results. Specialties include instructional design and development, highly interactive e-learning, and implementing social learning strategies.