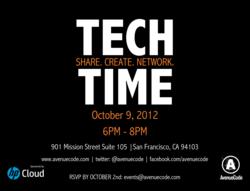 San Francisco, CA (PRWEB) September 25, 2012
Avenue Code's Tech Time is a quarterly discussion and networking event where game changing ideas are being introduced to leaders in technology, e-commerce, finance, and medical industries. Panelists are speakers from high profile companies who have implemented these ideas within their organization. Speakers will share real-world experiences and project a vision of the future for technology and e-business.
The first discussion is set to take place on October 9, 2012. The focus of the meeting is Omni-channel solutions and Agile development. Omni-channel implementations integrate multiple channels within a company, creating a cohesive retail play and maintaining a focus on the brand. Traditionally, revenue paths within a company are treated separately. This is counter to how customers view their engagements, which is with the brand. This creates a dissonance for both customers and internally within a company. Customers are inconvenienced because transactions are not maintained across different contact points. Brands look fragmented and channel duplication causes inefficiencies.
An innovative Omni-channel deployment allows customers to seamlessly engage across multitude of channels. Transactions can be conducted using a mobile device, a web page, in person, or a combination of all three. The Omni-channel solution allows users to interact with a business through whichever interface is convenient for them.
To find out more about the Tech Time event please visit: