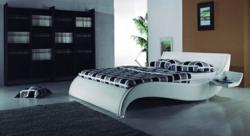 We believe the latest furniture trends should be affordable to everyone, but with costs inflated industry-wide, buying modern furniture can be hard for those on a budget.
Minneapolis, MN (PRWEB) September 26, 2012
Compared to other generations, Generation Y is more money-conscious and hesitant to commit to big-ticket purchases, including furniture
DefySupply, a leading online furniture retailer, is positioned to serve the unique young adult shoppers of Generation Y. This cohort—those ranging in age from 18 to 33—presents several exclusive challenges and opportunities, which in turn are reflected in their shopping patterns. Shopping behaviors specific to Gen Y consumers, particularly recent college grads and young adults, are influenced by financial restraints, commitment issues and general shopping preferences.
Gen Y, also referred to as the Millennial generation, are widely burdened with student loan debt and high unemployment rates, according to an article from U.S. News and World Reports. With many financial restraints among this demographic, many young adults find it difficult to commit to big-ticket purchases, like furniture. Between the fear of purchasing a piece that will be outdated quickly and the reluctance to spend a large sum of money, furniture shopping is a lower priority for this generation.
Still, furniture is a must when starting an adult life. DefySupply, founded by a member of Generation Y, offers solutions to these challenges through an innovative acquisition model. By purchasing furniture directly through the top global manufacturers, DefySupply eliminates the middle-man and excessive markups. This process keeps costs low, allowing budget-conscious individuals, like Gen Y, to purchase the latest furniture trends without stressing the pocketbook or compromising value.
"We believe the latest furniture trends should be affordable to everyone, but with costs inflated industry-wide, buying modern furniture can be hard for those on a budget," says CEO Brent Gensler. "As a member of Generation Y myself, I understand the need for modern furniture that's affordable and up to date. DefySupply was launched to fill this industry void and provide furniture for all budgets and lifestyles."
DefySupply sees promise and opportunities among this demographic. With 68 percent of Gen Y shopping online and more converting to online shopping each year, DefySupply offers unparalleled convenience and price savings, compared to brick-and-mortar shopping. A study by Franklin Furniture Institute reports that 61 percent of shoppers under 35 searched for furniture information and comparisons online, attesting to the popularity of online furniture shopping among younger generations.
Additionally, social media presents new ways to reach and engage with this tech-savvy group. DefySupply is active on both Facebook and Twitter, but most recently, the online furniture store has joined Pinterest. DefySupply Pinterest boards showcase everything from living room furniture to bedroom furniture, as well as tips on how to live well and decorate for less gathered from across the Web.
About DefySupply
DefySupply, headquartered in Minneapolis, is a bridge allowing everyday consumers to buy directly from the world's top manufactures at a fraction of the cost. Check out DefySupply reviews to read what customers are saying and learn more about the company. Follow DefySupply on Twitter for daily updates.