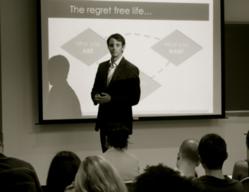 Smart 20 and 30-somethings tend to under-invest, or overlook completely, the ordinary skills that form the foundation of extraordinary lives
Washington, DC (PRWEB) September 25, 2012
"That one piece of advice completely changed my life," reflects Ben Sands, 34, "and it's been getting better ever since.
Today, Sands is the CEO of Regret Free Life – a boutique coaching and consulting company based in Washington, DC.
The "advice" to which Sands refers, was from a successful Hollywood movie producer whom Sands was teaching skiing 10 years ago in Aspen, Colorado.
Remembers Sands, "We were talking about life, success, pursuit of happiness...and I asked him:
'How do I get to be where you are...what must I do to emulate the success you've had in your life?'"
The film maker's reply took him by surprise:
"Don't over-think your career. Focus on building core skills, and success will follow..."
Sands, a PSIA Level 3 ski instructor, had moved to Colorado from Manhattan just days after watching the first plane fly into the World Trade Center on the morning of September 11, 2001.
"I knew, as I watched the towers fall, that the world had just changed; everything was going to be different from this moment on." says Sands. "Though I was only 23, I realized that I had to stop 'following the herd' and start taking control of my life."
He never looked back. From New York he moved to Aspen – where, among other things, he taught skiing to the rich and famous.
According to Sands, a Duke graduate, the education he received while teaching skiing – as well as while tending bar at Aspen's luxurious Little Nell and St. Regis hotels – was "better than any MBA." The advice offered covered life to love and everything in between. Some of it he has forgotten or dismissed, but producer's advice has endured.
According to Sands' famous client, the core skills are: Time management, Finance, Risk Management, Relationship Building and Sales. Sands now refers to these skills as "The 5."
"I now see that smart 20 and 30-somethings routinely under-invest, or overlook, the importance of these core capabilities," reflects Sands. "They develop specialize expertise – e.g. banking, consulting, law – while overlooking the ordinary skills that form the foundation of extraordinary lives."
Sands is looking to change this.
Starting Monday, October 8th, Regret Free Life will offer a new, fast-paced, high-energy online training program designed to help smart 20 and 30-somethings quickly improve their knowledge and skill in each of "The 5" core disciplines. Sands has taken that initial piece of advice and diligently studied "what the best do" in each of these core areas.
Sands will lead each session – sharing 3-5 of the best ideas, insights and solutions per topic area, that he has cultivated in his 10+ years of study.
Registration for "The 5" | The Secret Skills of the Most Successful closes on Monday, October 8th at 12p EST.
For more information and to register, please visit the Regret Free Life website at http://www.regretfreelife.net or contact Ben Sands at ben(at)regretfreelife(dot)net.
###