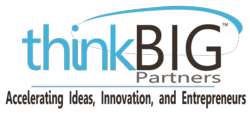 Kansas City, MO (PRWEB) September 25, 2012
Think Big Partners has teamed up with Microsoft to create and host Azure Cloud and Windows 8 App Kickstarts to educate startups and developers how to effectively utilize and build on Microsoft Azure and Windows 8 platforms. The event will take place at Think Big Partners' coworking space, bizperc, on October 15-17, 2012.
These App Kickstarts will be a key opportunity for developers, hackers, coders, entrepreneurs and startups to learn how to build apps on Windows 8 and deploy to the Microsoft Azure Cloud platform before Windows 8 becomes generally available to the public on October 26, 2012. With over 90% of the market share, the Windows operating system has remained one of the top platforms for development to date. This limited event will provide attendees with a head start on building new, innovative applications on one of the most powerful operating systems and cloud platforms in the world, Windows 8 and Microsoft Azure.
On October 16, 2012, the first official day of App Kickstarts, participants are invited to learn how to build, deploy and manage applications across the Microsoft Azure platform. Attendees will be educated on how emerging businesses can best leverage Azure through CMS systems, how to create and scale customer websites in PHP and Node.js, how to deploy code updates using GIT, how to run Azure Windows and Linux VM's, how to store data in Azure, and how to use Azure's many platform services including Queues, Service Bus, and Authentication. Microsoft engineers will also be on hand to provide consulting, insight, and mentoring for participants. Attendees must bring a laptop and sign up for Azure prior to the event. Developers may sign up for the Azure 90 day free trial. Startups and entrepreneurs who quality for BizSpark should sign up for BizSpark and activate an Azure account prior to the event.
Startups and entrepreneurs are also invited to learn about the Microsoft BizSpark Program and how to use its 2,000 partners in order to connect with incubators, investors, advisors, government agencies and hosters.
On the second day of App Kickstarts, participants will be invited to learn how to build Windows 8 Metro style apps using HTML5, CSS3 and JavaScript. Attendees will be educated on Windows 8 navigation, user experience patterns, inherent async design and integration. The day will be focused around building new applications on the Windows 8 platform. Microsoft engineers will also be present at the event to provide insight, mentorship and expertise in order to help participants. Attendees must bring a laptop and install the RTM version of Windows 8 prior to the event.
Before the official event on October 16, attendees and the Kansas City tech community are invited to attend a cocktail hour on Monday, October 15, 2012 from 6:00-9:00pm. At the cocktail hour, attendees will have access to technical evangelists and representatives from Microsoft who will answer Windows 8, Azure and BizSpark questions. Event attendees are also encouraged to bring a laptop if assistance is needed loading the Azure or Windows 8 trial platforms.
On October 18, 2012, attendees are also invited to participate in a one-on-one question-and-answer session with Taylor Cowan, Microsoft's Director of Startups. Taylor will be available to answer questions about Windows 8, Microsoft Azure, Microsoft BizSpark and how to engineer a product over the multiple Microsoft platforms.
"Given Microsoft's rich history and technological power, this event will truly give developers and hackers a leg up in the industry," said Blake Miller, local Kansas City developer at Think Big Partners. "In the startup world, things move pretty fast. Having the opportunity to be one of the first to develop on Windows 8 and Azure while being able to ask questions and receive answers directly from the source will not only put the startups we work with on the map, but all of Kansas City on the fast track to success."
The Microsoft Azure Cloud and Windows 8 App Kickstarts will take place October 15-17, 2012 at bizperc, located at 1800 Baltimore in Kansas City, Missouri. This event is free to register. Space is limited. Entrepreneurs, startups, developers, and hackers are invited to register for the limited event at http://www.microsoftkickstart.eventbrite.com.
About Think Big Partners
Think Big Partners is an early-stage startup accelerator and mentorship-based collaborative network located in Kansas City, Missouri. Think Big Partners has successfully launched or grown over 150 successful companies with its creation of coworking spaces (bizperc), entrepreneurial conferences (Think Big Kansas City and iKC), essential services, startup resources and funding (Think Big Ventures). To learn more about Think Big Partners, please visit http://www.thinkbigpartners.com.
###