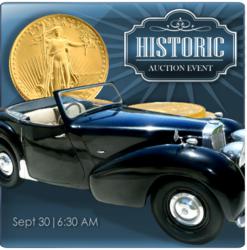 "Today surviving Roadsters are highly sought as they were not produced in large numbers and most were hand built," stated Chief Auctioneer Paul Sabesky
Tehachapi, CA (PRWEB) September 25, 2012
For a woman that loves an elegant statement piece of fine jewelry, presented for auction is 161.91 CT Ruby & White Sapphire Necklace. The vibrant main ruby gemstone is Fuscia red in color, faceted oval shaped and surrounded by diamonds. The eighteen inch length necklace features a flexible ribbon of graduating elaborate nineteen ruby gemstones surrounded by white sapphire bezels. The necklace is composed of silver with gold overlay with an approximate total weight of 161.91CTs. Bidding on this item starts at $2.
Offered for auction in the luxury watch category is a Rolex Women's Watch. This investment timepiece is stainless steel and was previously owned. It is one several other Rolex watches in the auction catalog. The watch is a Oyster Perpetual with a steel band and black face.
A truly remarkable item for auction is a 1949 Triumph Roadster TR 2000. One of the coolest cars on the road in many years the Roadster contains a dickey rumble seat with " King of the Road" headlamps and triple wipers. The car is a right hand drive model with a 128 ci (2000 cc ) 68 h.p. OHV 4 cylinder engine with a 3 speed full synchronized manual transmission. The Roadster has been fully restored with black paint, saddle tan interior, black canvas convertible top, roll up windows, and wood dash. "Today surviving Roadsters are highly sought as they were not produced in large numbers and most were hand built," stated Chief Auctioneer Paul Sabesky. This item is available for pick up only in California to the winning bidder.
In addition to the luxury items being presented, the auction house is also featuring a collection of gold coins. A unique coin offered is a 1853-G $1 U.S. Liberty Gold Coin. The coin is NGC graded as MS 63 and is sealed in plastic protector pouch. The coin is medium antique gold color and shows only few handling marks. The coin features lady liberty on the front with a laurel wreath and $1 Dollar on the reverse. Its metal content is 90% Gold, 10% Copper.
In the antique category a old time favorite piece offered is a Wurlitzer Model 780-E "Wagon Wheel" Jukebox w/Keys. Wurlitzer was the best known name in for quality jukeboxes with timeless craftsmanship and style. The jukebox is comprised of carved oak with steel fittings and contains a wagon wheel design in the center. This antique has been fully restored and is in good working order.
Additional auction highlights include a Louis Vuitton Purse, Alberto Vargas signed lithograph, 1889-CC Morgan Silver Dollar Coin and more.
To view this auction please click the link below
Historic Auction Government Assets Sale - Sunday, Sept 30th, 2012 | 6:30 AM Pacific
http://www.liveauctioneers.com/catalog/31926_historic-auction-government-assets-sale/page1
For additional information on any lot in the sale, call Debbie on 661-823-1543 or e-mail info(at)governmentauction(dot)com.
About Government Auction
Government Auction was founded as a general resource to buying assets such as jewelry , gemstones, memorabilia, collectibles, art, prints, antiques, and vehicles throughout the United States. Most people don't realize there are hundreds of thousands of assets and valuables that are seized everyday and made available through various resources. Many of these confiscated assets are passed on to us for immediate liquidation. Some examples of how we acquire requisitioned objects are from bankruptcies, IRS, estate sales, trusts, and more.
Government Auction is the largest company of its kind and the only one in the United States that works closely with these agencies to acquire literally thousands of assets and confiscated goods, such as Ruby Gemstones, Sapphire Rings, and Men's President Rolex Watches, Mercedes Benz, and Gold Coins. In most cases we acquire these treasures at a fraction of their actual retail value. Once acquired these items are liquidated through the auction site. Clients are made up of just the everyday person who wants to buy a Diamond Bracelet, Pearl Strand Necklace, Sterling Silver Pink Sapphire Earrings, Oval Cut Emerald Gemstone Parcel, Remington Bronze Reissue at an unbeatable price.
All assets that we offer are normally at a 30% - 60% savings to the client. What this means is consumers are making a good investment immediately. By purchasing assets cheaply people can make a sizeable profit if they decide to resell it later on.
Government Auction is one of the most reputable jewelry and gem clearinghouse company in the U.S., with over 20 years of experience.
###